Computing

I've been using Bing as my default search engine for over a year now. I must be crazy, right? Who uses Bing? People always love to hate on Bing, and constantly treat it as a joke. Why? I guess because it's "not Google", or simply because they haven't even tried it. When I tried it, I too was a little reluctant at first, but here are a few reasons why I stuck with it.
Web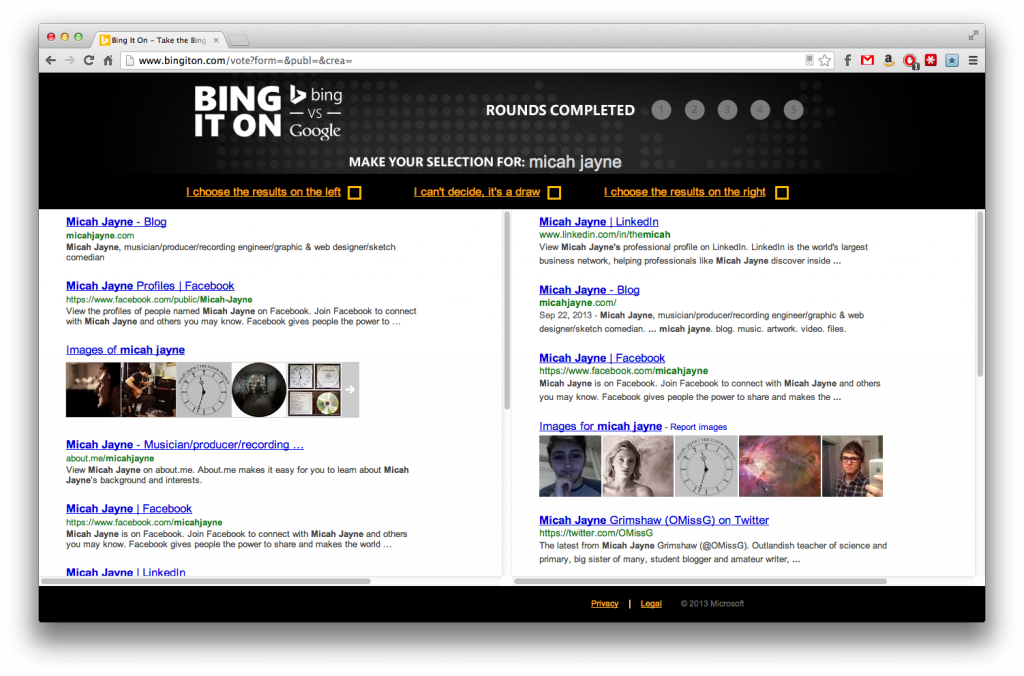 Bing on the left, Google on the right
Try it. Seriously. You might be surprised. I tried it again just now as I write this, and 4/5 times I chose Bing. Very rarely does Bing not give me the results I'm looking for.
Images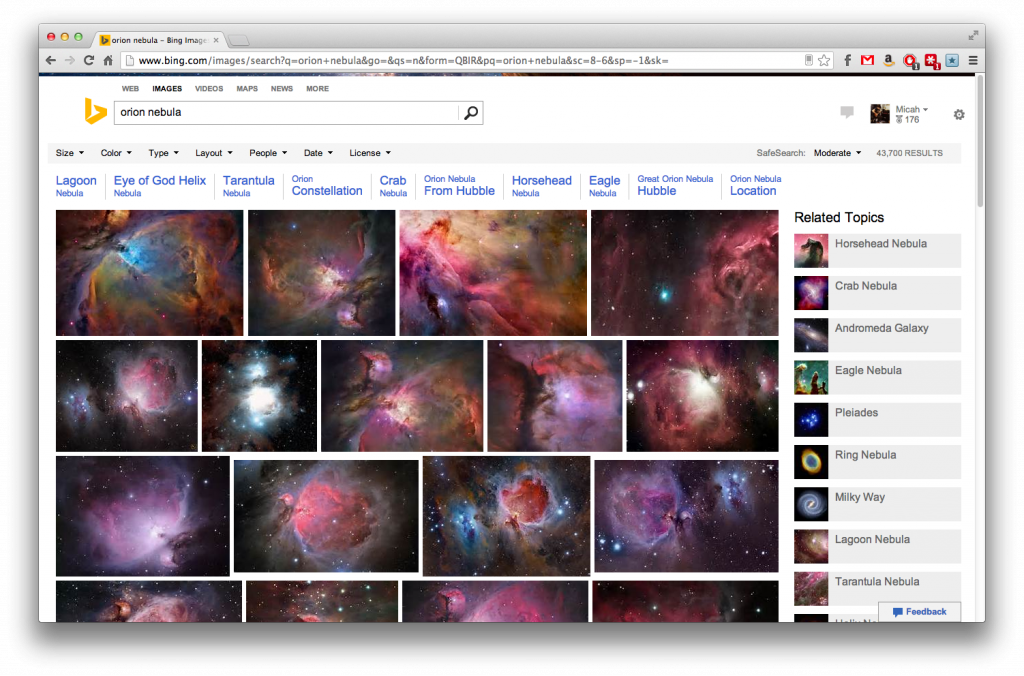 Bing had the endless scrolling of images long before Google did. Google eventually added this functionality, but there's a big problem with it. As you scroll down, on Google, you have to scroll all the way back to the top to do another search. On Bing, all you have to do is scroll up just a little bit and the search bar pops up. Try it!
One advantage Google does have over Bing though is the ability to search by an image. I'll use this occasionally and it's great if you're looking for a higher resolution version of a picture.
Video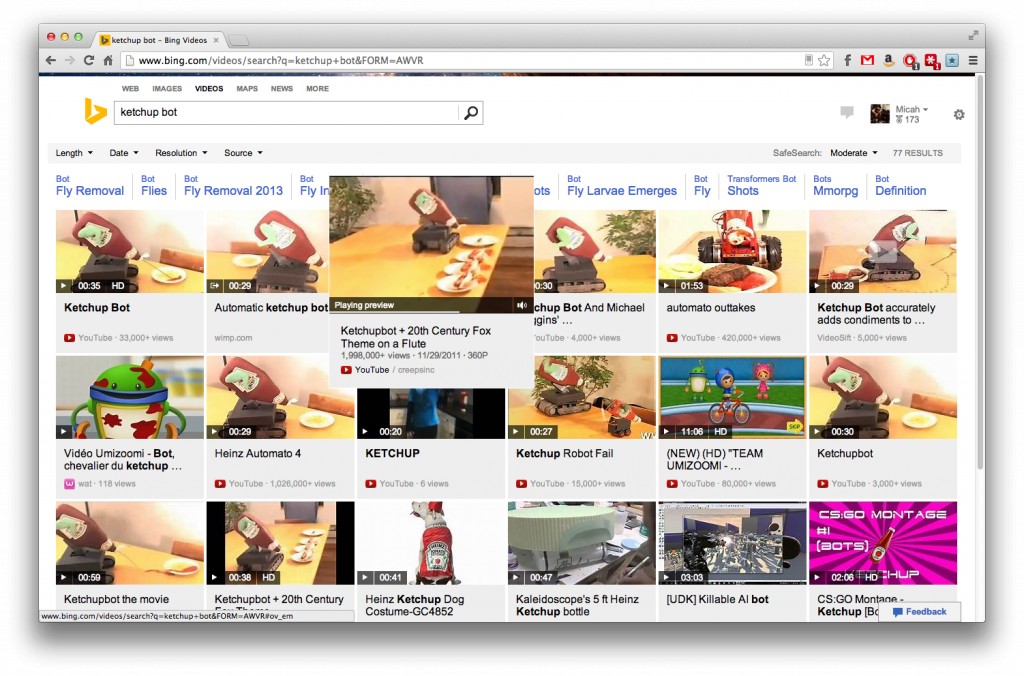 Video searching is one feature that's way better on Bing. All of the results show up as thumbnails, and in most cases you can even mouse over them and it will start playing an excerpt from the video.
Travel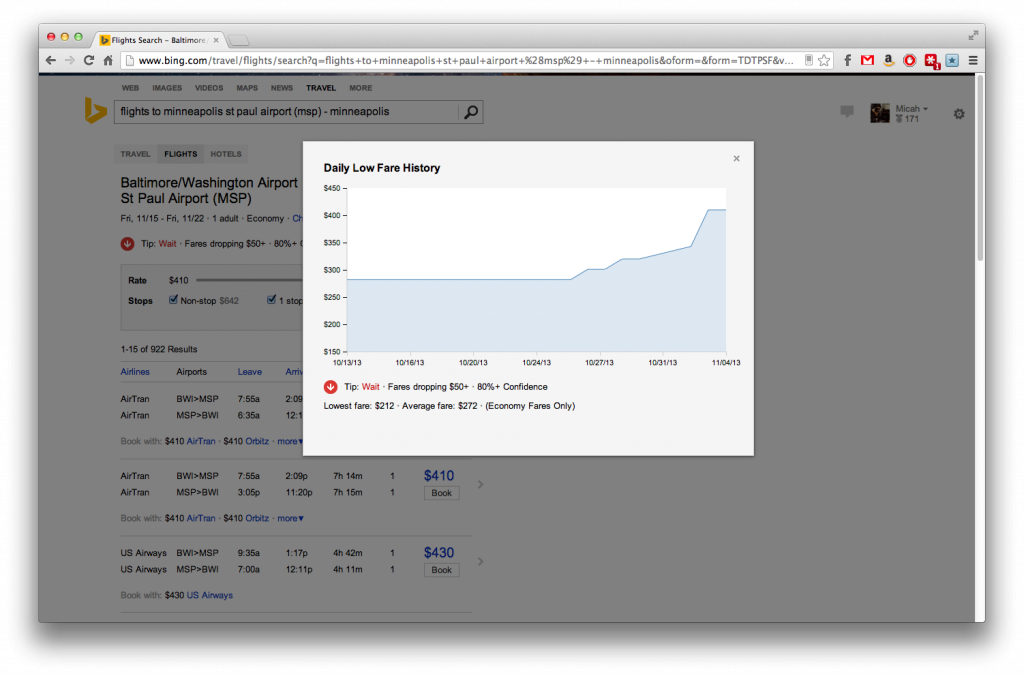 This is awesome. Search for a flight and Bing will give you a price predictor, telling you whether or not you should buy now or wait a few days. I've used this several times, and it works great.
Homepage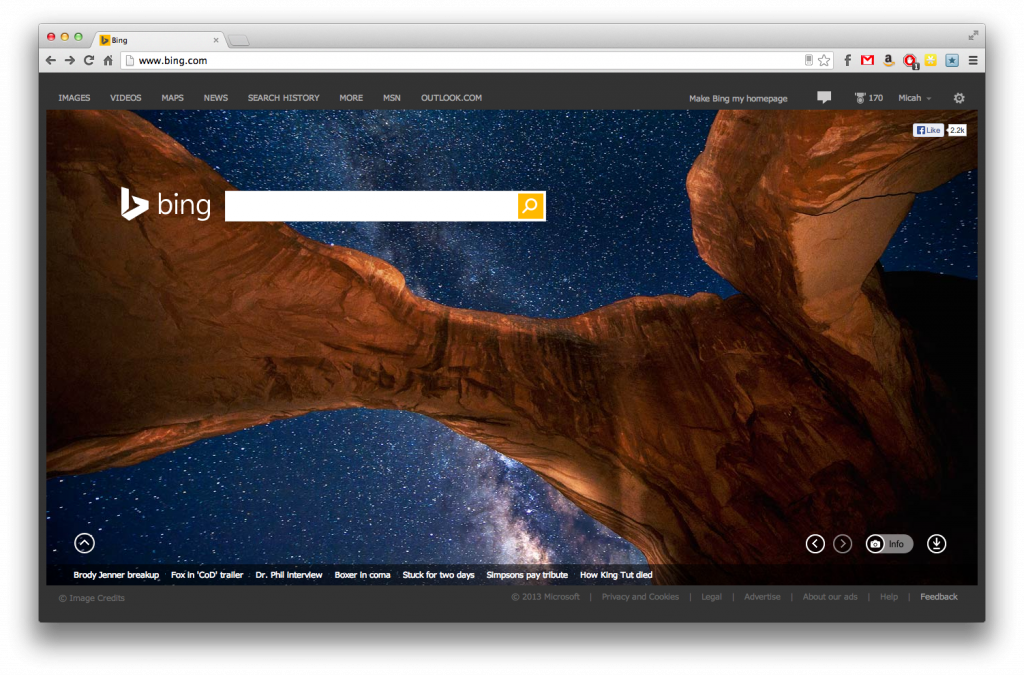 I think even people who don't use Bing can admit that the Bing homepage is awesome. A beautiful new picture everyday, filled with squares you can mouse over to learn more.
Logo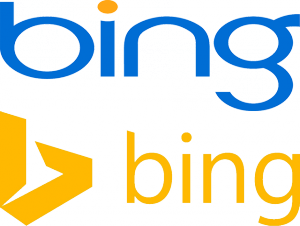 When I first started using Bing, probably the thing that annoyed me most was the logo. I thought it looked terrible, and unnecessarily stretched out. I am happy that the logo has recently seen a refresh, and I like the new one much better now.
Rewards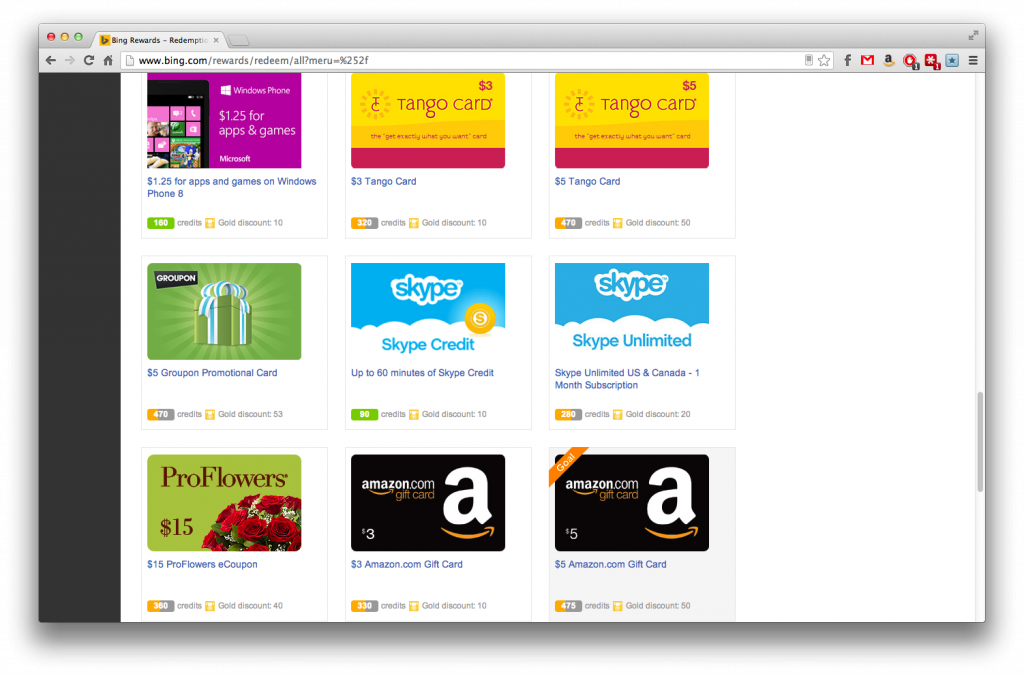 Just a few of the available rewards
This is the big one, and the reason I decided to give it a try in the first place. Bing pays you to use it. So far I've earned $50 worth of Amazon gift cards, just for using Bing. Do searches and you'll earn credits. You get 1 credit per 2 Bing searches, up to 15 a day. It doesn't sound like much, but they add up fast. There are occasionally other opportunities to earn extra credits as well. You can then redeem these credits for various rewards such as gift cards or subscriptions. I can get a $5 Amazon gift card for 475 credits, which takes about a month. This program may not last forever, but it's been over a year and it's still going strong. Even if it were to end now though, I don't think I would switch back to Google, as I've come to prefer Bing.
Music
The Clock Project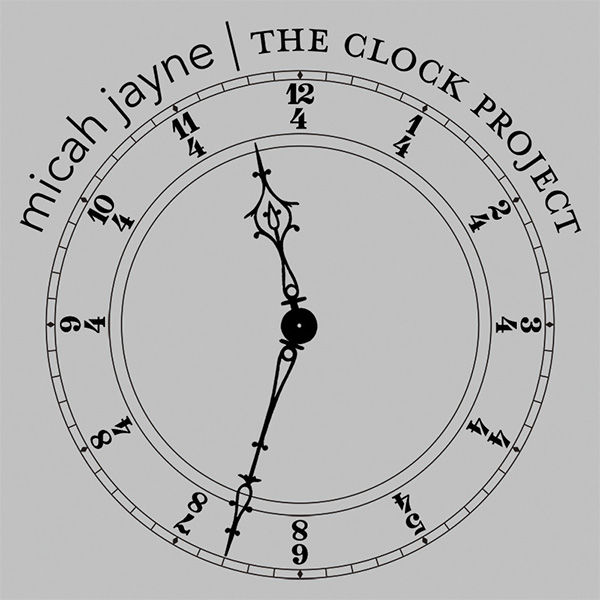 My new CD, The Clock Project, is available now! This time I decided to do something a little different. Each song features a different time signature corresponding to its track number. The album contains 12 songs, all with time signatures ranging from 1/4 up to 12/4. For example, track 5 is written in a 5/4 time signature, 5 beats per measure. If this sounds strange to you, check out the Wikipedia page "complex time signatures" for some popular examples. The Clock Project differs from The Umbrella Project in that it is more of an alternative rock album, with a heavier emphasis on electric guitars, bass, and drums, with some electronic bits sprinkled throughout. Also, while The Umbrella Project was largely instrumental, all of the songs (save for one) on The Clock Project feature vocals. Most of these songs have been written since around 2010, and I have finally gotten around to recording and releasing them. I've always held an interest in different time signatures and I hope you enjoy the variety in these songs! The Clock Project is available to stream and order here.
Collections
Miscellaneous
Here are the items I generally carry on me everyday. Links are to previous blog posts where I've mentioned said item.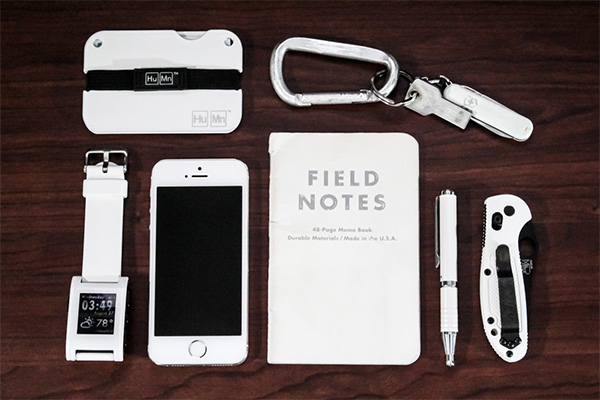 From top to bottom, left to right:
HuMn Mini Wallet
Keys with Victorinox Swiss Army Classic and 16GB LaCie PetiteKey
Benchmade Mini-Griptilian
As well as one of the Burt's Bees lip balms and Listerine PocketPaks from my collection.
Featured on everydaycarry.com.
Collections
In the past, I've only used chapstick as a last resort, of sorts. Come wintertime, my lips would crack and peel, which I would often then bite and tear with my teeth, making things even worse. My dad has been a big Carmex user ever since I was a wee lad. While it definitely did the job, I hated the sticky feeling that came with it, and always felt the need to wipe off my lips. Of course, I had heard of Burt's Bees, but somehow never got around to trying it. This was up until last year, when my cousin David near-had to force me to try the mango Burt's Bees. To my surprise, I loved it. It felt great, with no overly-sticky feeling. Ever since then, I haven't been able to get enough of trying out all of the flavors. Some of them almost as good as the mango, others not so great. With my dad, I was able to fashion up a wooden box I can now store them in, along with one for my various flavors of Listerine PocketPaks (also amazing). Below, you'll find pictures, along with some of my thoughts on each of the flavors.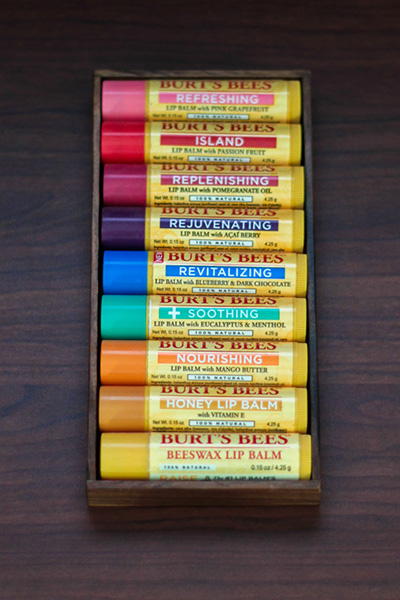 From top to bottom:
Refreshing (with pink grapefruit) - Very similar to the mango in feel, but smells like grapefruit!
Island (with passion fruit) - This one's a no-go for me. It smells kind of like mold, however I do have a peculiar sense of smell.
Replenishing (with pomegranate oil) - This one's pretty dec, and very smooth. Unlike the others though, it has a bit of reddish tint to it, which I'm not crazy about.
Rejuvenating (with acai berry) - Pretty good. Not one of my favorites, but if you like acai berries, I imagine it'd suit you well. My sister likes this one a lot.
Revitalizing (with blueberry & dark chocolate) - This one is a lot like the acai berry one. That's to be expected, considering acai berries are often described to taste like a mix between blueberries and chocolate.
Soothing (with eucalyptus & menthol) - This is another one of my favorites. It has a pretty strong menthol smell though, so if you don't like cough drops, I'd stay away. I love it though. The texture is a little bit grainier than others but it's not too bad.
Nourishing (with mango butter) - This one is definitely my favorite. Can't be beat!
Honey Lip Balm (with vitamin E) - Another not-so-great one in my opinion. Smells a bit like an old lady's perfume.
The Original - This one is, of course, great as well. It has a little bit of a thicker feel than the mango, so it's not quite as smooth. It has a very strong peppermint smell, which is nice.
Ultra Conditioning (with kokum butter) (not pictured) - Also a great one. A little on the expensive side, but I had to give it a try. Might be good when your lips are super chapped and in a deep state of disrepair, but for most cases one of the others should do just fine.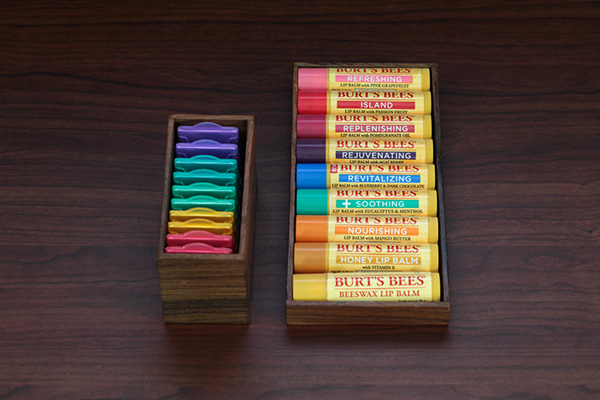 Nowadays, I always carry one of these on me, paired with one of the PocketPaks, ready to combat chapped lips and bad breath one day at a time.
Collections
Another one of my childhood hobbies, which I'm sure is shared with many others, is Lego. I had quite the collection when I was a youngin', and until last summer, all of my sets were hidden away in the attic.
But as you can see, me and my sister changed that. We got out all of my old Lego bricks and tried to reassemble the sets they originally came from. Surprisingly, most of the sets we were able to complete with all of the original pieces. Nearly all of them still had the manuals and some I even still had the original box for. The pictures above are only a very small portion of the collection. Getting all of them out of the attic made me remember how much I liked them, and it has since reignited my hobby. Here is a picture of the more recent sets I've acquired: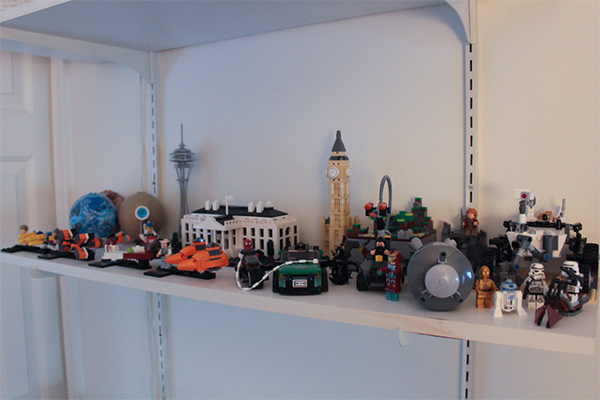 I have also been collecting a few minifigures from the minifigures series: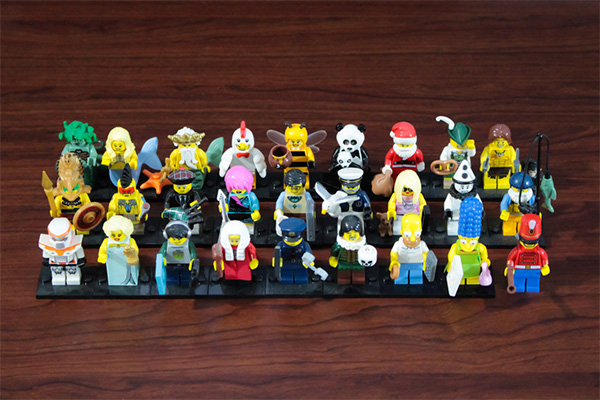 Collections
Yo, Yo-Yos May 27, 2013 - 9:49 pm
When I was a kid, I took up a hobby in yo-yoing. There were some guys who came to my local library to teach kids how to yo-yo and that's what really fueled my interest. I still have a yo-yo catalog from 1999 that I got from there. I stopped for a while, however, up until about two or three years ago when I started trying out freehand yo-yoing, and then last year when I tried out offstring. Now I only do it every now and then, but I'd like to practice more to get better at it. Right now I mainly am trying to learn more advanced string tricks, but I'm by no means an expert. The hardest trick I can land right now is probably the matrix or rewind. So since I like posting pictures of my various collections, without further ado: my yo-yo collection!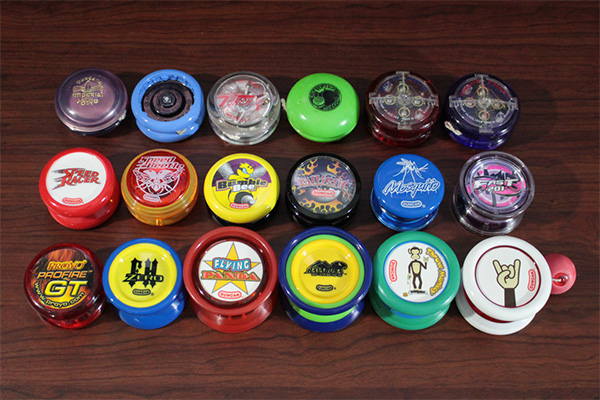 From left to right, top to bottom:
Duncan Imperial
Duncan ProYo (without the caps)
Spintastics Torch - Lights up while it's sleeping!
Green Yo-Yo "with hi-tech action" - This was my very first yo-yo.
Yomega Brain (x2) - These things were all the rage when I was a kid, everyone had to have one.
Duncan ProFly (with Speed Racer caps)
Duncan Speed Beetle - A great yo-yo for looping.
Duncan Bumble Bee - Similar to the ProFire GT, but in a modified shape instead of butterfly.
Duncan Ballistic - This yo-yo has little steel balls that you can load into the sides of the yo-yo underneath the caps. You can put them towards the edges for longer sleep times or towards the center for better looping.
Duncan Mosquito - This one's a tiny little guy.
YoYoFactory Fast 201
ProYo ProFire GT - A guy I met at a magic show I went to with my dad gave me this when I was a kid. It's been modded with a ball bearing instead of the standard transaxle. It's still one of my favorites.
Duncan Freehand Zero - This is the one I mainly use now. It's great for freehand and regular string tricks.
Duncan Flying Panda - My first offstring yo-yo.
Duncan Hayabusa - Another offstring yo-yo.
Duncan Throw Monkey (x2) - My first freehand yo-yo.
Games
Minecraft May 1, 2013 - 6:10 am
Last summer, my cousin Marcus started up a Minecraft server and me and my cousins have been playing together on it for a while. I haven't been on that much lately, but I thought I would share some of my creations from the server. This is a survival mode world, so all of these resources were got the good old-fashioned way!
First we have the PvP arena, where minecraftians can battle to the death! This was built mainly by me and Michael, of CPR2 fame. The wooden bridge heading off to the right is the minecart track to Ocelot Island: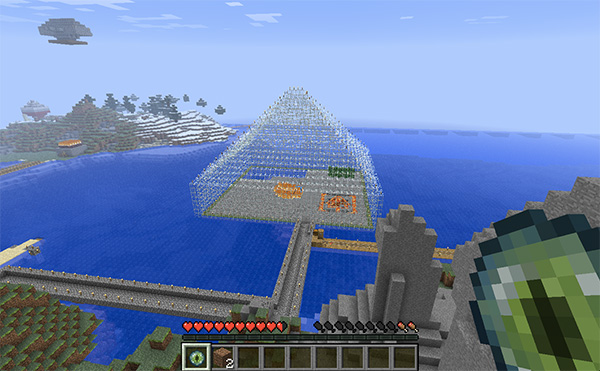 Here we have the tracks to Ocelot Island: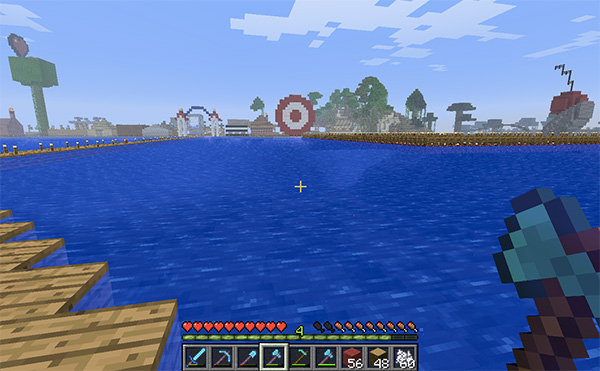 The entrance to Ocelot Island. The gateway is modeled after the one on the boardwalk in Ocean City, MD: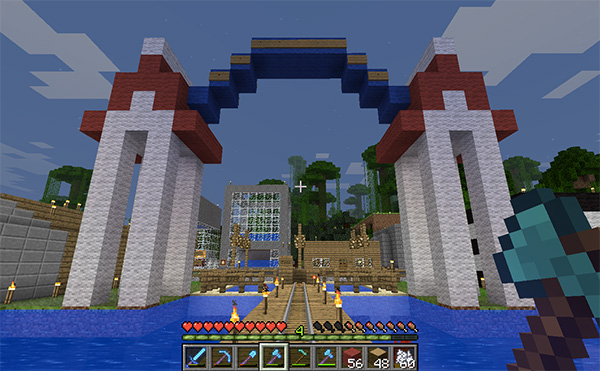 Here is a sculpture of the Spoonbridge and Cherry from the Minneapolis Sculpture Garden: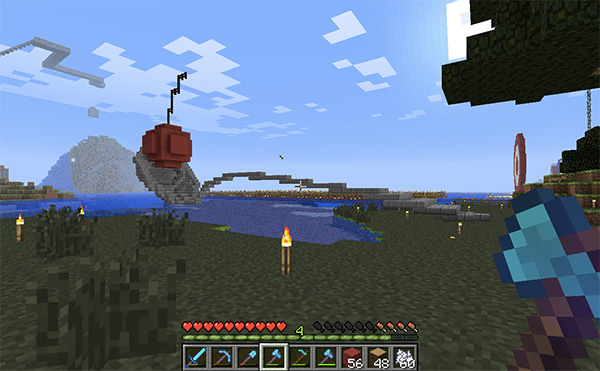 Here is an aerial view of Ocelot Island, standing on top of the tree with the heart on top of it that you saw as you came in. The Spoonbridge and Cherry is past the target, just out of sight: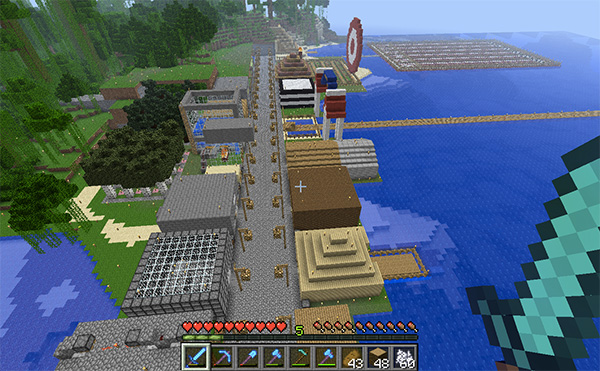 The street from the left side looking right (you can see the trunk of the tree that the previous picture was taken from):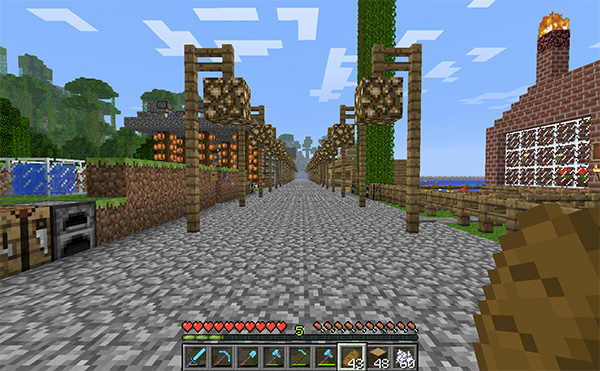 The street from the right side looking left: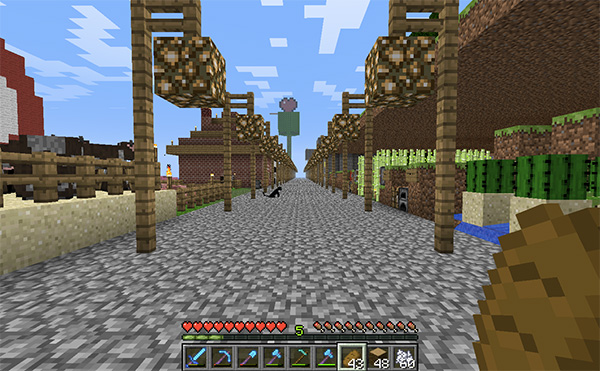 The 50m Saddled Pig Dash! Redstone is hooked up to lower all of the gates at the flick of a lever that's in gate 1. The chest is full of carrots on an stick to control the pigs with: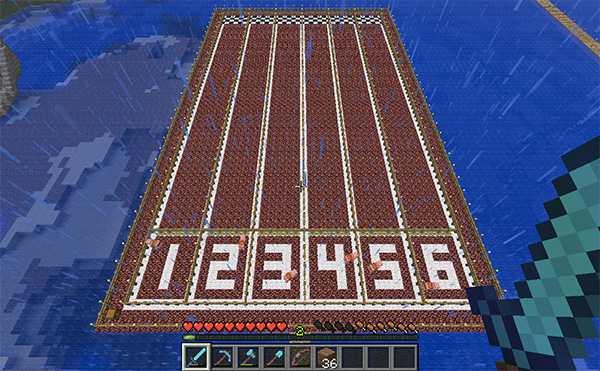 Dyed sheep farm (looks like some of the pink and magenta sheep snuck over into somewhere they ought not be):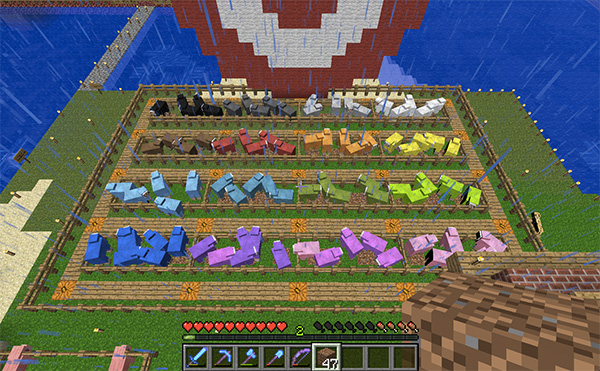 Ocelot Island is home to many things, included but not limited to: semi-automatic wheat, pumpkin, watermelon, sugar, cacti, cocoa bean, carrot, and potato farms, oak, birch, and spruce tree farms, a pig and cow farm, a dyed sheep farm, a bank, a library/enchantment room, an automatic chicken cooker, a mushroom dungeon, a skeleton spawner trap, an armory, a forge, a bakery, a jail, a potion shop, a record shop, a bait & tackle shop, a farmer's market, a pet shop, a flower shop, a 50m saddle pig dash, as well as entrances to several mines.
There are also underground tunnels that connect together different areas that others have worked on, there's quite the system down there.
Anyways, it's been a lot of fun! Hopefully I'll be back on to build some cool new things soon. Hope you enjoyed the pictures!
Apps
Computing
iPhone 5 April 26, 2013 - 2:19 pm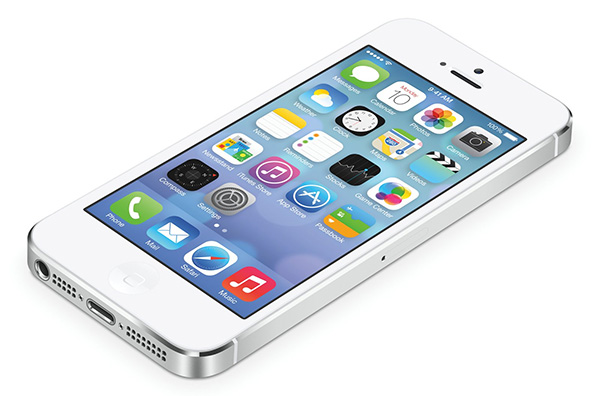 I made the switch from Windows Phone 7 to the iPhone 5 about a couple months ago now, and I thought I'd post a few of my thoughts about it.
First off, the all-aluminum and ceramic glass body feels amazing. The only bad thing is, with aluminum being a rather soft metal, it's prone to scratches. So far I've only managed to get a couple tiny nicks on the edges, nothing too bad.
The screen really is incredible though. Using it spoils you. Looking at my friend's Galaxy S3 and seeing all of those pixels just looks gross.
As for size, I'm glad Apple finally switched to 16:9, as I find that preferable. Videos are no longer letterboxed and the extra row of icons is nice. Though, when holding it with one hand, it's hard to reach the top row of icons.
Using Messages, the first thing that got on my nerves is the infamous autocorrect. I feel like the autocorrect method on Windows Phone 7 is far superior, but I've adjusted pretty quickly. One of my favorite things though is the ability to use Messages on my computer to text people. When I'm working on the computer and I get a new text message, I can respond instantly right there with a full keyboard, rather than having to pull out my phone and type up a response on the tiny touch keyboard. Back to the computer... what was I doing? Right. The ability to fire a quick response and keep working without interruption is great.
Another two of my favorite things are Notes and Reminders. I use to-do lists all the time, and in the past I've often just emailed myself to-do lists from my phone. I tried using Wunderlist for a little bit, but it was just too slow when I wanted to jot down a quick reminder. Notes and Reminders syncs seamlessly between my computer and phone. I can add stuff from my phone to do when I get back on the computer, or I can add stuff on the computer to do while I'm out with my phone. It's great, and fast.
With Passbook, all of my boarding passes and gift cards are on my phone. Awesome.
Google+ and Dropbox let me backup all my pictures with instant upload, so now I have two backups of everything and I never have to sync with my computer.
I use Slice to keep track of all my online shipments. It tells me when they will arrive so I don't have to bother checking the tracking numbers.
Flipboard and Circa are both great news apps.
The voice in Google Maps is impressive. It sounds almost human. My parents just bought a new Garmin and it sounds just like their old one that they got half a decade ago -- like a robot.
Some of my favorite music apps are Moog's Filtatron and Animoog, Propellerhead's Figure, and Apple's GarageBand. GarageBand is even compatible with the GarageBand on my computer, so I can record a song idea on my phone, transfer the .band file onto my computer, and keep working on it from there.
I'm subscribed to iTunes Match so I have my entire 11,000+ song library on my phone at all times (without the 65GB that comes along with it). If I know I'm going to be without service for a while, on a flight for example, I can download a few albums ahead of time and listen offline.
4G is awesome and in most of my experience it's faster than wifi.
Games like Cut the Rope: Time Travel and Rayman Jungle Run will make standing in line never boring again.
There's plenty of other great apps and features I could go on about, but these are among my favorites. I really like the interface on Windows Phone 7, and Windows Phone 8 was kind of tempting. However, with the lack of apps, I hardly used them, and mainly just used my phone for texting. Now I can do so much more, but making phone calls will continue to not be one of those things.
Apps
Computing
Windows 8 January 2, 2013 - 12:41 pm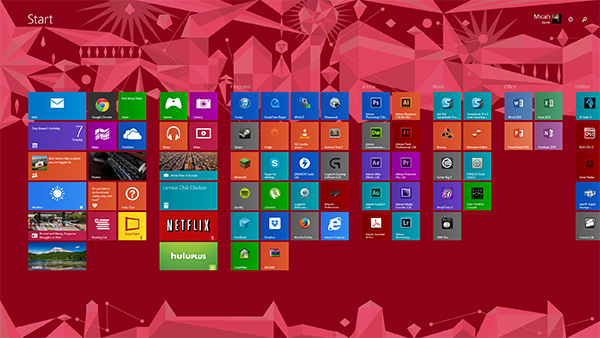 At last, I'm back home for winter break after another semester at College Park. It is nice to be reunited with my beloved desktop computer, which I've finally been able to install Windows 8 on. I've got to say, I'm a fan. I've been using a Windows Phone for almost two years now and I like the Metro interface. I can't say I really miss the old start menu at all, and once you learn your way around, and all the shortcuts, I've found it actually makes things easier. The ability to just press the windows key and start typing to launch the program you're looking for is a nice feature, like spotlight on Mac or numerous app launcher programs. The new task manager is great too. Also, this is probably due to getting a fresh install more than anything, but I've noticed a considerable speed increase as well. Nothing like a good-old winter cleaning.
I like the fact that the same apps are available on both the tablet and the desktop. Not all apps are useful; for instance, it doesn't make much sense using the Facebook, Amazon, or Wikipedia apps on the desktop when you can just as well use the full site. However, I enjoy the Netflix and Hulu apps, and other things like Fresh Paint and Jetpack Joyride are cool to have available on the desktop. There are plenty of iOS apps that I would like to be able to use on Mac and it's unfortunate they can't be. The built-in Mail, Calendar, People, Messaging, Weather, etc. apps are great as well and I've been using them quite a bit.
Another source of my love for Windows 8 stems from the resolution of a problem I've been having with my audio interface ever since I've gotten it (and the one before it as well, which I returned because I assumed the interface was the problem... turns out it wasn't). I was unable to use it as my default sound card without getting nothing but awful static for sound, and I constantly had to power cycle the interface every time I opened a program like Reason or Samplitude in order for it to work. I ended up having to feed the output from the built in sound card on my motherboard as an input into the interface to get sound from the computer to come through my speakers. Anyways, ever since I installed Windows 8, this problem has gone away completely. I'm able to use the interface as my default sound card and I no longer have to reboot it for it to work properly. This makes me happy.
Overall I think Windows 8 is a solid upgrade. Anyone who doesn't like the new interface or misses the old start menu can install another shell like this one, but really once you learn a couple shortcuts you won't miss a thing!
Apps
Clocks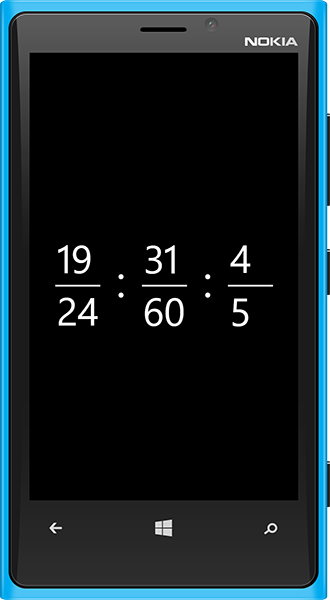 An app for my fraction clock is now available on the Windows Phone Marketplace! If you have a Windows Phone, go download it for free!