Collections
Music
Guitar Gear October 16, 2014 - 1:35 pm
Here are a few pictures and a listing of my current guitar rig:
Guitar
Fender American Deluxe Telecaster Thinline
Amp
Vox Custom AC15 Creamback
Pedalboard
Pedaltrain PT-2 Pedalboard
Voodoo Lab Pedal Power Mondo Power Supply
Strymon TimeLine Delay
Strymon BigSky Reverberator
Boss RV-5 Digital Reverb
Boss DD-7 Digital Delay
Electro-Harmonix POG2 Polyphonic Octave Generator
Electro-Harmonix Nano Big Muff
Paul Cochrane Timmy Overdrive
Walrus Audio Deep Six Compressor
Sonic Research Turbo Tuner ST-200
Ernie Ball MVP Volume Pedal
Slide
Original Polished Brass Rock Slide
Collections
Pen and Paper
Part 3 of the pens, pencils, and notebooks collection.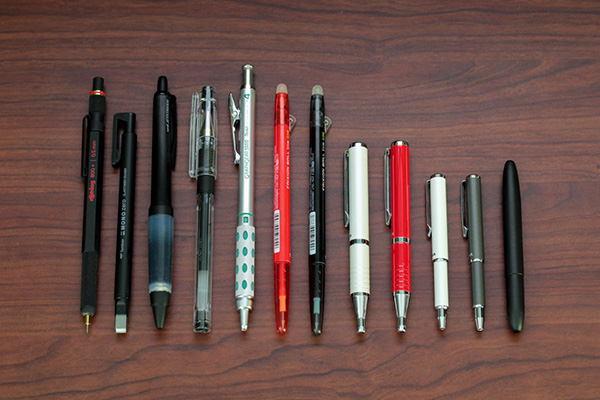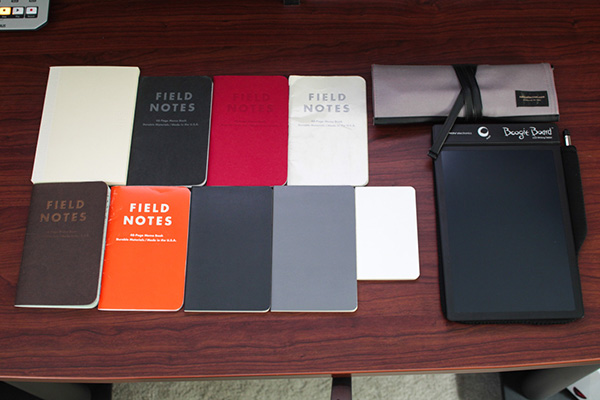 Pens and pencils, from left to right:
Rotring 800+ Mechanical Pencil + Stylus Hybrid 0.5mm - Like the 600, but with a tip that doubles as a tablet stylus.
Tombow Mono Zero Eraser 2.5mm x 5mm - Skinny when it needs to be, but can cover more area with the wider side.
Uni Jetstream Alpha Gel Ballpoint Pen 0.7mm - The best ballpoint with an alpha gel grip, what more could you ask for?
Pilot Hi-Tec-C Gel Ink Pen 0.4mm - Great writing gel pen!
Pentel Graph Gear 1000 Drafting Pencil 0.4mm - Love the 0.4mm lead option, and the retractable tip is great.
Pilot FriXion Ball Slim Gel Ink Pen 0.38mm (Red) - Beth brought these back from Japan during her semester at sea trip. It's a pen that you can erase!
Pilot FriXion Ball Slim Gel Ink Pen 0.38mm (Black)
Zebra Expandz Ballpoint Pen 0.7mm (White) - Love this guy, usually what I carry on me; nice and compact.
Zebra Expandz Ballpoint Pen 0.7mm (Red)
Zebra SL-F1 Mini Ballpoint Pen 0.7mm (Gray) - A little smaller than the Expandz, can take a Fisher universal refill.
Fisher Space Pen Bullet Ballpoint Pen - A classic.
Notebooks, from top to bottom, left to right:
Midori MD Notebook - A very nice notebook, another thing Beth brought back from Japan.
Field Notes (Night Sky Edition)
Field Notes (Red Blooded Edition)
Field Notes (Northerly Edition)
Field Notes (The Traveling Salesman Edition)
Field Notes (Expedition Edition)
Moleskine Volant Pocket Ruled (Payne's Gray)
Moleskine Volant Pocket Ruled (Slate Gray)
Moleskine Volant Extra Small Ruled (White)
On the top right is a Saki P-666 pen roll
and on the bottom right is a Boogie Board - a cool digital tablet that you can use a stylus to write on and push a button to erase.
All of the Field Notes varieties: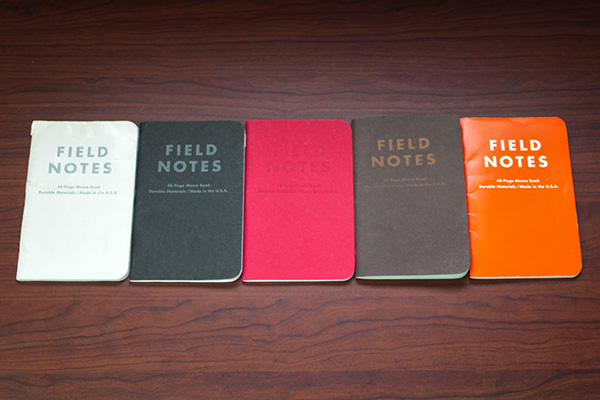 Some notebook/pen combinations: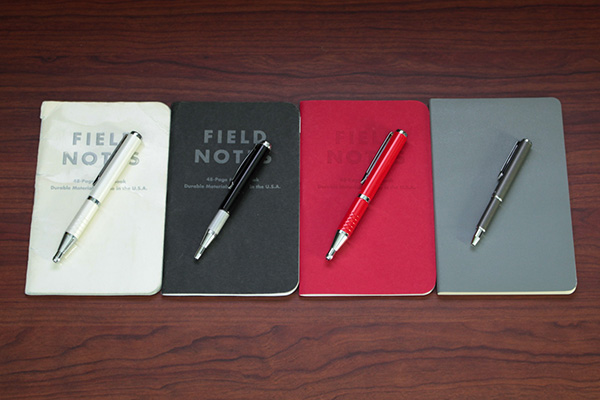 Collections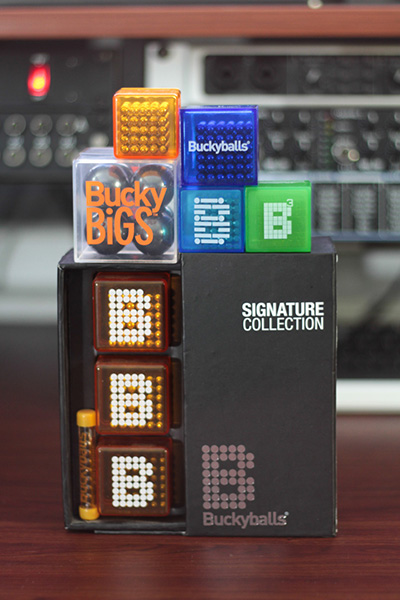 Here are a couple of pictures of my Buckyballs collection. It's old news by now, but it's a shame they got discontinued. There is a recall issued for them, but I have no intentions of returning them; I'll do what I can to resist the urge to swallow them. There's an interesting article on the rise and fall of Buckyballs here. If you'd like, you can still buy Bucky Bigs and Buckyballs encased in lucite here.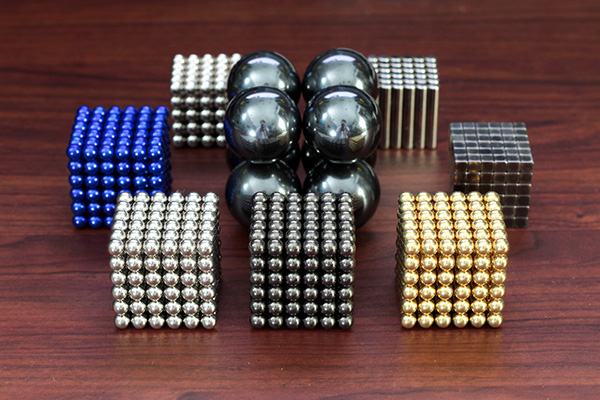 Collections
Miscellaneous
Here are the items I generally carry on me everyday. Links are to previous blog posts where I've mentioned said item.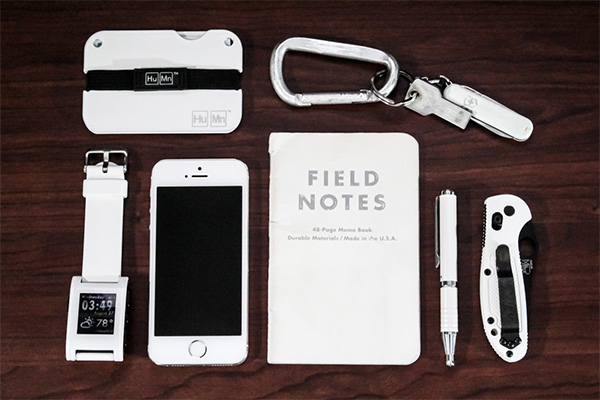 From top to bottom, left to right:
HuMn Mini Wallet
Keys with Victorinox Swiss Army Classic and 16GB LaCie PetiteKey
Benchmade Mini-Griptilian
As well as one of the Burt's Bees lip balms and Listerine PocketPaks from my collection.
Featured on everydaycarry.com.
Collections
In the past, I've only used chapstick as a last resort, of sorts. Come wintertime, my lips would crack and peel, which I would often then bite and tear with my teeth, making things even worse. My dad has been a big Carmex user ever since I was a wee lad. While it definitely did the job, I hated the sticky feeling that came with it, and always felt the need to wipe off my lips. Of course, I had heard of Burt's Bees, but somehow never got around to trying it. This was up until last year, when my cousin David near-had to force me to try the mango Burt's Bees. To my surprise, I loved it. It felt great, with no overly-sticky feeling. Ever since then, I haven't been able to get enough of trying out all of the flavors. Some of them almost as good as the mango, others not so great. With my dad, I was able to fashion up a wooden box I can now store them in, along with one for my various flavors of Listerine PocketPaks (also amazing). Below, you'll find pictures, along with some of my thoughts on each of the flavors.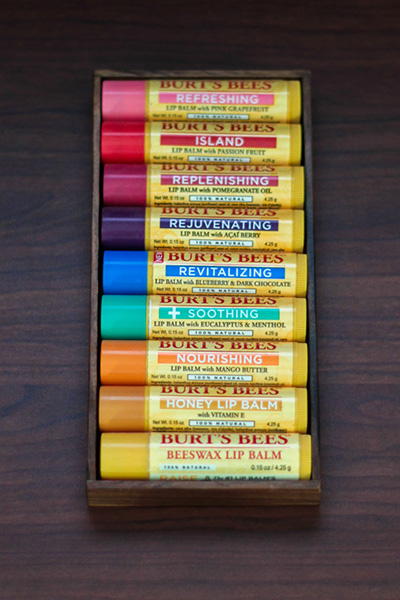 From top to bottom:
Refreshing (with pink grapefruit) - Very similar to the mango in feel, but smells like grapefruit!
Island (with passion fruit) - This one's a no-go for me. It smells kind of like mold, however I do have a peculiar sense of smell.
Replenishing (with pomegranate oil) - This one's pretty dec, and very smooth. Unlike the others though, it has a bit of reddish tint to it, which I'm not crazy about.
Rejuvenating (with acai berry) - Pretty good. Not one of my favorites, but if you like acai berries, I imagine it'd suit you well. My sister likes this one a lot.
Revitalizing (with blueberry & dark chocolate) - This one is a lot like the acai berry one. That's to be expected, considering acai berries are often described to taste like a mix between blueberries and chocolate.
Soothing (with eucalyptus & menthol) - This is another one of my favorites. It has a pretty strong menthol smell though, so if you don't like cough drops, I'd stay away. I love it though. The texture is a little bit grainier than others but it's not too bad.
Nourishing (with mango butter) - This one is definitely my favorite. Can't be beat!
Honey Lip Balm (with vitamin E) - Another not-so-great one in my opinion. Smells a bit like an old lady's perfume.
The Original - This one is, of course, great as well. It has a little bit of a thicker feel than the mango, so it's not quite as smooth. It has a very strong peppermint smell, which is nice.
Ultra Conditioning (with kokum butter) (not pictured) - Also a great one. A little on the expensive side, but I had to give it a try. Might be good when your lips are super chapped and in a deep state of disrepair, but for most cases one of the others should do just fine.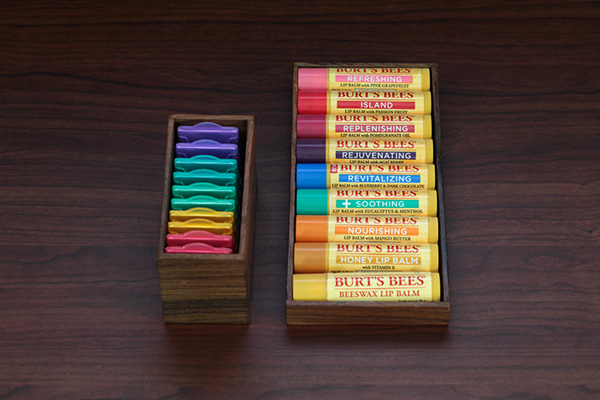 Nowadays, I always carry one of these on me, paired with one of the PocketPaks, ready to combat chapped lips and bad breath one day at a time.
Collections
Another one of my childhood hobbies, which I'm sure is shared with many others, is Lego. I had quite the collection when I was a youngin', and until last summer, all of my sets were hidden away in the attic.
But as you can see, me and my sister changed that. We got out all of my old Lego bricks and tried to reassemble the sets they originally came from. Surprisingly, most of the sets we were able to complete with all of the original pieces. Nearly all of them still had the manuals and some I even still had the original box for. The pictures above are only a very small portion of the collection. Getting all of them out of the attic made me remember how much I liked them, and it has since reignited my hobby. Here is a picture of the more recent sets I've acquired: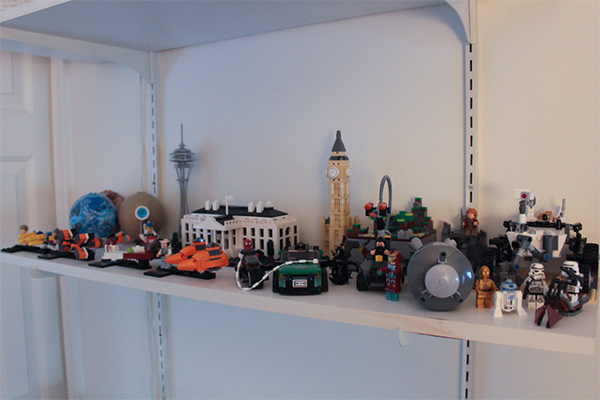 I have also been collecting a few minifigures from the minifigures series: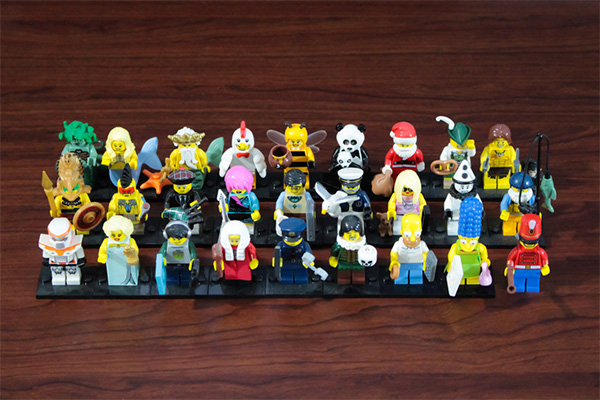 Collections
Yo, Yo-Yos May 27, 2013 - 9:49 pm
When I was a kid, I took up a hobby in yo-yoing. There were some guys who came to my local library to teach kids how to yo-yo and that's what really fueled my interest. I still have a yo-yo catalog from 1999 that I got from there. I stopped for a while, however, up until about two or three years ago when I started trying out freehand yo-yoing, and then last year when I tried out offstring. Now I only do it every now and then, but I'd like to practice more to get better at it. Right now I mainly am trying to learn more advanced string tricks, but I'm by no means an expert. The hardest trick I can land right now is probably the matrix or rewind. So since I like posting pictures of my various collections, without further ado: my yo-yo collection!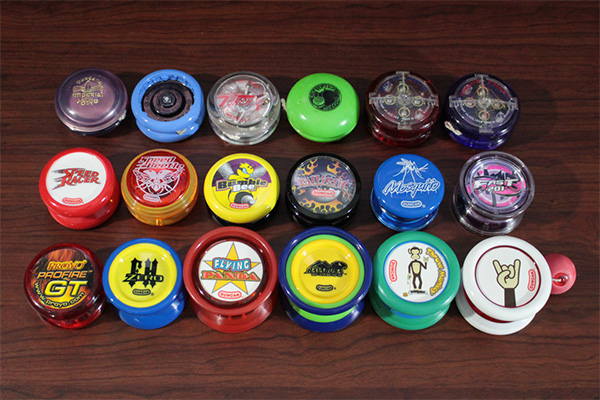 From left to right, top to bottom:
Duncan Imperial
Duncan ProYo (without the caps)
Spintastics Torch - Lights up while it's sleeping!
Green Yo-Yo "with hi-tech action" - This was my very first yo-yo.
Yomega Brain (x2) - These things were all the rage when I was a kid, everyone had to have one.
Duncan ProFly (with Speed Racer caps)
Duncan Speed Beetle - A great yo-yo for looping.
Duncan Bumble Bee - Similar to the ProFire GT, but in a modified shape instead of butterfly.
Duncan Ballistic - This yo-yo has little steel balls that you can load into the sides of the yo-yo underneath the caps. You can put them towards the edges for longer sleep times or towards the center for better looping.
Duncan Mosquito - This one's a tiny little guy.
YoYoFactory Fast 201
ProYo ProFire GT - A guy I met at a magic show I went to with my dad gave me this when I was a kid. It's been modded with a ball bearing instead of the standard transaxle. It's still one of my favorites.
Duncan Freehand Zero - This is the one I mainly use now. It's great for freehand and regular string tricks.
Duncan Flying Panda - My first offstring yo-yo.
Duncan Hayabusa - Another offstring yo-yo.
Duncan Throw Monkey (x2) - My first freehand yo-yo.
Apps
Clocks
Collections
...but the party don't stop, no.
I have an interest in interesting clocks, so I thought I'd share some of the ones I have in my small collection.
Clocks from left to right:
Anelace Powers of Two BCD Clock - A clock that tells time in binary!
Sony ICF-C318 Clock Radio with Dual Alarm - A good old-fashioned digital clock. I bought this as an alarm clock after my phone alarm decided to not work one morning, so I knew it could no longer be trusted. The dual alarms definitely come in handy.
Lexon Around Clock - While the red marker stays still, the body rotates around.
Newgate Small Covent Garden Alarm Clock - A retro-looking old-fashioned alarm clock, but with fake bells and a digital alarm beep.
Brookstone Jimi Rocker Clock - A clock with an interesting see-through display that lights up when you rock with it (and when you lean with it, too).
Backwards Clock (in the back) - Most everything in the universe (planets [most of them, anyways], moons, stars, galaxies, etc.) rotate counterclockwise, so why shouldn't clocks?
Watches from left to right:
Pebble Smartwatch - I love this thing and it's what you'll find on my wrist the majority of the time. Having text messages sent to my wrist is an awesome feature, and definitely something I miss the very few times I haven't worn it. There are also tons of different watchfaces to choose from, including ones that will give you up-to-date weather reports. The only gripe I have with it is the watch pins tend to pop out if you ever get your watch hung on something, e.g. a backpack strap or coat sleeve, causing the strap to come off. I've replaced them with some heavier duty ones that seem to hold much better.
Casio CA53W Databank Calculator Watch - My beloved calculator watch. You never know how handy having an easily accessible calculator is until you have one strapped to your wrist. Also quite the fashion statement.
Casio A158W-1 Classic Digital Stainless Steel Bracelet Watch - A great watch for such a low price.
Ni'love Calculator Watch - Unfortunately I would not recommend this one; it's confusing to operate and doesn't keep time very well.
I also have the QlockTwo app. I would love to have one of the real ones, but with a $1,100 price tag, I just don't see it happening. They sure are pretty though!
and of course let's not forget my very own fraction clock! For when telling time is just too easy.
Collections
Pen and Paper
Penterest July 1, 2012 - 7:10 pm
Yes, that's right, another pen blog post. I may have a problem. Anyways, I have some new additions to the family and I didn't want them to feel left out, so here they are!


Pens and pencils from left to right:
Pilot G2 Limited w/ Mont Blanc Refill - Probably my favorite pen at the moment. The metal body with the rubber grip is nice, and the Mont Blanc refill is as good as it gets.
Retro 51 Tornado - Another one given to me by my Uncle Paul, this is a great pen.
Pilot Multiball - A great-writing pen. It claims to write on any surface as well, including things like glass. But will it write on those glossy, ink-smearing, christmas gift tags? Time will tell.
Stabilo Bionic Worker - Cool-looking pen, and the all-rubberized body is nice, but the tip is way thick for a 0.5mm and the ink is very prone to smearing.
Zebra Regal NR5 - Very similar to the Pilot Precise V5.
Rotring Tikky Rollerpoint - Had high hopes for this one, but like the Stabilo, the tip is very thick for an "extra fine."
Morning Glory Mach II - Yet another one very similar to the V5.
Uni Mitsubishi Pin - Love this one. It is a felt tip like the Microns and Sharpie pens, and the 0.1mm tip is super fine.
PU Rollerball - Don't know a whole lot about this one, another given to me by my Uncle. Solid rollerball.
Uni-ball Power Tank - An air-pressurized ball point similar to the Fisher space pens. Writes upside down, which comes in handy whenever I'm hanging upside down.
Zebra Surari - A pretty good ballpoint which could maybe even rival the Jetstream.
Quasar Pen - This one, which I just rediscovered recently, was given to me by my grandma when I was a kid. Click the top and you're treated to a light show of a rainbow of pulsing colors!
Laser Pointer Pen - Another one from Uncle Paul. It has a laser on one end and the other end can be pulled out into an antenna-style pointer, perfect for those impromptu orchestra conducting sessions.
Zebra F-701 w/ Fisher Refill - Solid all aluminum ballpoint, and the Fisher refill makes it even better.
Boardwalk Pen - My dad bought this at the Ward World Championship Wildfowl Carving Competition (that's a mouthful), which he annually competes in. A guy made this out of the scrap wood from the boardwalk in Ocean City, Maryland.
Zebra Tect 2Way Drafting Pencil - A shaker pencil and a clicker pencil all in one!
Skilcraft Drafting Pencil - Another old rediscovered item.
Rotring 600 Drafting Pencil - One of the best there is. By far, my favorite pencil.
2 Uni-Ball E-Knock Erasers - Use these all the time in school, these are the best. I prefer them over the Staedtler Mars Plastic sticks, as they are a little softer and much easier to deploy.
and last but not least and not pictured, is the Zebra Expandz Ballpoint Pen. This is the one that I carry around on me every day. I love this little guy.
Notebooks from left to right:
Moleskine Passions Music Journal - This isn't as good as I'd hoped it'd be, but it's still pretty cool. Has all different sections for the musical adventures in your life.
Behance Dot Grid Journal - I've mentioned this one here.
Moleskine Lego Limited Edition Notebook - So awesome.
Rhodia Stable Bound Classic Notebook - A lot like field notes but just a little smaller and lot oranger.
Rhodia Reinforced Stable Bound Notepad - Nice little notepad.
Check out the rest of the collection.
Collections
Pen and Paper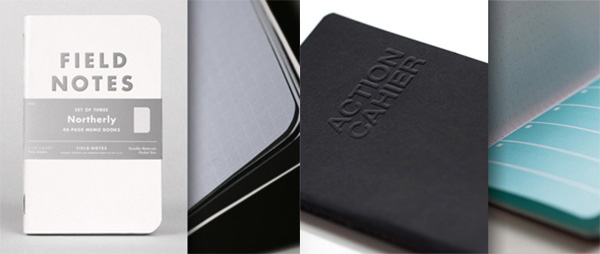 I just got my first set of Field Notes and a pack of Action Cahier notebooks. The Field Notes are the "Notherly" edition, the 13th of the colors editions, which are quickly selling out in most places. These notebooks are made in the U.S.A. and have bright white covers with an embossed shiny silver logo and are beautiful in person. Its 48 pages are ruled with white graph lines over very light blue-gray paper. I love the use of the Futura typeface, and it reminds me of the notebook used in L.A. Noire. The inside of the back cover has the company's story, the specifications of the notebook, some humorous "practical applications," and even a nifty 5-inch ruler along the edge. Consider me a fan, and I'll be watching for the new colors editions as they come out!
The Action Cahiers by Behance are the same size as the Field Notes, besides having slightly less round corners and being a little thicker due to having 64 pages vs. 48. The saddle is stitched rather than stapled like the Field Notes. The Action Cahier front cover also has an embossed logo, with "Action Cahier" set in the Helvetica typeface. The covers have a slight texture to them unlike the smooth white covers on the Field Notes. Some unique things about the Action Cahiers are the check list pages with the dot matrix on the reverse sides. I also have a Dot Gird Journal, also by Behance, and I love the dot grid pages. The check lists are nice, and are perfect for making a simple to-do list or keeping track of project tasks. I've found myself drawing in my own in the Field Notes, so having them already there and neatly laid out is convenient. The notebook is filled with perforated "New Leaf Paper," which is made out of 100% post-consumer waste fiber. Compared to the Field Notes' finch paper, it is slightly textured and a little thicker. The notebook also has pocket inside the back cover which is nice.
Both of these notebooks are great, and are the perfect size for sticking in your coat or back pocket to have handy to write down your to-do list or sketch some notes. The Action Cahiers are a little more aimed at projects and to-do lists. Both are solid notebooks and either would be great for your daily note-taking needs.