Music
Video
Songs about love, space, & symmetry.
My new albums are available now! You can download them both for free on Bandcamp.
Symmetric Geometry/Geometric Symmetry is a joint release with two separate albums, each with 10 tracks. All of the tracks on Symmetric Geometry feature vocals, while Geometric Symmetry is entirely instrumental.
Music
After 5 long years, a project I began with Tyler Ringer & Jeremy Ray has finally been released. Recording began on May 2nd, 2010, and was completed on August 21st, 2011. In the subsequent 4 years, I spent time on and off re-programming instruments, mixing, and mastering. These are by far the largest songs I've worked on, with some songs containing as many as 94 tracks. Attempting to mix such massive songs was a bit daunting, but I'm happy with how they turned out and am excited for them to finally be released. They all feature a wide variety of unique instruments, some you've maybe never even heard of before! You can read the full credits list on Bandcamp. You can download the 32-minute album for free -- just click Buy Now on Bandcamp and enter 0 in the Name Your Price box. The album features 7 songs, all coming together to form a story, while each song seamlessly transitions from one track to the next as the journey continues. I'd recommend downloading in one of the higher quality formats, such as ALAC, to make sure the gap timing is preserved, as MP3 can add space between songs as a byproduct of its compression process. Each track also has its own artwork, each a scene from the Tapisserie de l'Apocalypse. I hope you enjoy these songs as much as we did making them!
Collections
Music
Guitar Gear October 16, 2014 - 1:35 pm
Here are a few pictures and a listing of my current guitar rig:
Guitar
Fender American Deluxe Telecaster Thinline
Amp
Vox Custom AC15 Creamback
Pedalboard
Pedaltrain PT-2 Pedalboard
Voodoo Lab Pedal Power Mondo Power Supply
Strymon TimeLine Delay
Strymon BigSky Reverberator
Boss RV-5 Digital Reverb
Boss DD-7 Digital Delay
Electro-Harmonix POG2 Polyphonic Octave Generator
Electro-Harmonix Nano Big Muff
Paul Cochrane Timmy Overdrive
Walrus Audio Deep Six Compressor
Sonic Research Turbo Tuner ST-200
Ernie Ball MVP Volume Pedal
Slide
Original Polished Brass Rock Slide
Music
The Clock Project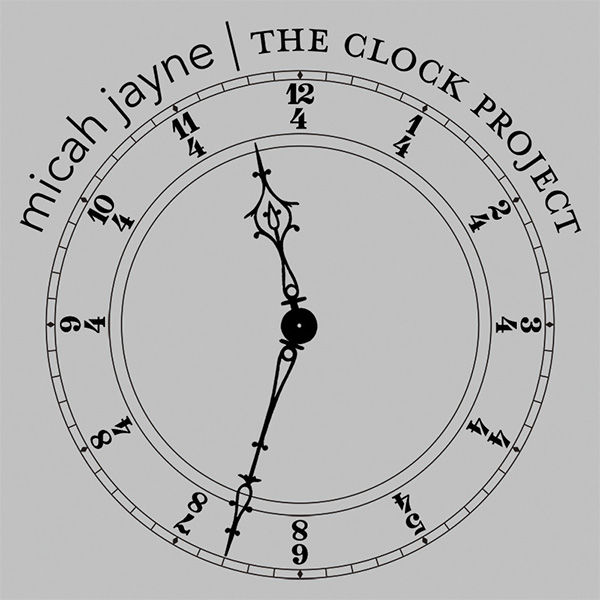 My new CD, The Clock Project, is available now! This time I decided to do something a little different. Each song features a different time signature corresponding to its track number. The album contains 12 songs, all with time signatures ranging from 1/4 up to 12/4. For example, track 5 is written in a 5/4 time signature, 5 beats per measure. If this sounds strange to you, check out the Wikipedia page "complex time signatures" for some popular examples. The Clock Project differs from The Umbrella Project in that it is more of an alternative rock album, with a heavier emphasis on electric guitars, bass, and drums, with some electronic bits sprinkled throughout. Also, while The Umbrella Project was largely instrumental, all of the songs (save for one) on The Clock Project feature vocals. Most of these songs have been written since around 2010, and I have finally gotten around to recording and releasing them. I've always held an interest in different time signatures and I hope you enjoy the variety in these songs! The Clock Project is available to stream and order here.
Music
New Demos March 24, 2012 - 6:43 pm
It's spring break! While I'm home I decided to record a couple of demos of some new songs I've been working on lately. Hope you enjoy!
Artwork
Computing
Miscellaneous
Music
The Clock Project
Video
2011 Update! January 19, 2011 - 6:27 am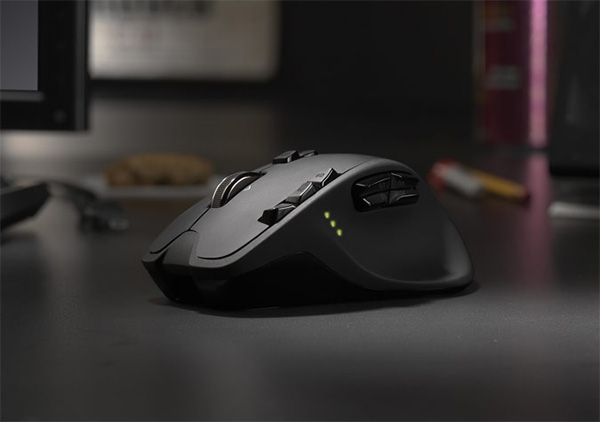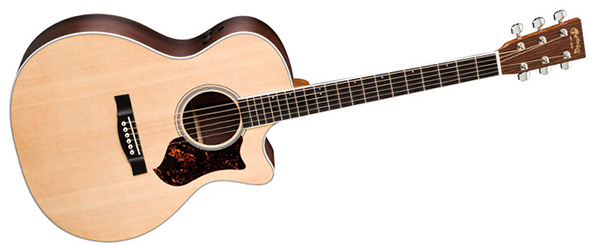 So I decided to post a little update to note the new occurrences in the fascinating life of Micah Jayne. It is now 2011! Hooray! I suppose I'm a few weeks late, but no matter. On to business!
As you may or may not know, over the course of my Thanksgiving spent in Ohio, me and my cousins (along with the help of @nathantsego) filmed the third (yes, third!) season of the revolution known as Camo Plaid Revolution 2. You can watch said episodes on our YouTube channel here. Currently there are only 3 episodes instead of the usual 5. Due to time constraints we weren't able to get all 5 out there, but sometime in the future, if we can scrape together enough footage, a couple more will be released.
For christmas, my lovely girlfriend (@autumnhaac) got me the behemammoth (that's behemoth+mammoth, I know, epic right?) of all computer mice, the Logitech G700. It is a beast. It's super comfortable and all of the buttons are very fulfilling. It even has it's own onboard memory and can store 5 different profiles on the mouse itself. Me and her have been playing quite a bit of Cataclysm lately and I have one profile set for gaming with some buttons set to trigger specific moves. One day while she was back for break I went over and brought my mouse and we ran a dungeon together. I used her laptop, plugged in the mouse, and all my macros worked perfectly without installing a thing. Nice.
There are rumors that with the aid of @coreyfmurphy, a promotional video for Bathroom Protocol will be released. If you are unfamiliar with the protocol, I suggest you inform yourselves here.
The new micahjayne.com has been up for quite sometime now! I'm pretty happy with the way it turned out and I think it proves to be more functional than the previous rendition.
I am in the process of mapping out drums for my next CD entitled "The Clock Project." More info on it will be released soon.
Me and Jeremy Ray are in the process of recording one of his new songs entitled "Jaded Eyes." All that's left to record are vocals and a couple more electric guitar tracks.
The very long process of recording the "The Boy, the Bird, & the Beast" record is still underway. There are 2 songs with some parts that need to be redone and only 1 full song left to record. I will also need to remap the drums, strings, and horns for all of the songs. More info on this project should be coming soon as well.
I created a simple new flash site for Corey Franklin, which can be seen at coreyfranklin.com.
I have just begun my final semester at Wor-Wic. This will complete my two years there and I plan to transfer to a four-year college this next fall semester.
I have been hired as THaT* Furniture Store's "webmaster" and am in the process of building them a new website. After the site is complete, my job will also include updating the site with new pictures. I will post a link to the new site once it's completed.
I have received a new Martin GPCPA3 Acoustic/Electric Guitar which is absolutely amazing and I love dearly. I have been in need of a new acoustic for quite some time now and I could not be happier.
And I believe that is all for now! Hopefully I'll start posting more frequently instead skimming over a dozen different topics like in this one. You can expect some more updates on many of these things soon!
Music
I thought I'd give a little update on a couple of my past purchases/additions to the studio. A couple weeks ago my bass rig finally got a long-needed upgrade. I got an Ampeg SVT-610HLF Anniversary edition, which has the silver grill cloth. I got it off Craigslist and got the guy to meet me in Baltimore to pick it up. It looks amazing, and it's in great condition with barely any scratches or tears. Not to mention it sounds amazing, especially compared to my old 15" combo. It sounds so much tighter, clearer, and has more punch than drinks of the Hawaiian variety. The cabinet's been modded so that it has a switch on the back to completely bypass the tweeter. When flipped off changes the sound quite a bit but personally I like it with the tweeter on; it adds more attack and punchiness.
I also finally got some studio monitors: KRK Rokit Powered 6 Generation 2s. They are fantastically yellow. I did an AB test with my old speakers and the difference was ridiculous. They sound so much fuller and clearer. I can even hear tiny little things in songs I've never noticed before. They can get loud. They're supposed to have a relatively flat response so hopefully they'll lead to much better mixes.
Below are a few pictures of spoken-of items. The cabinet is currently at band practice so I was unable to get a better picture of it.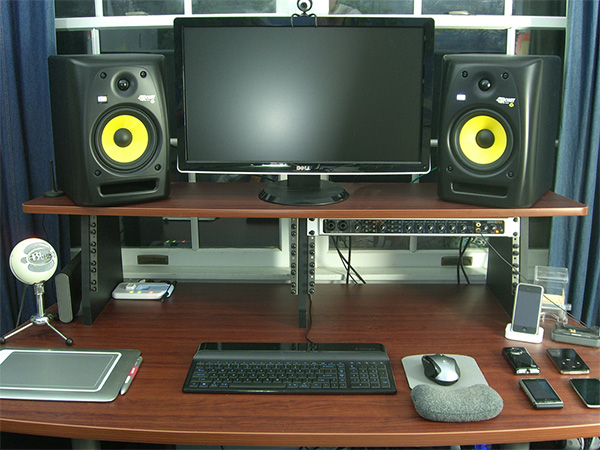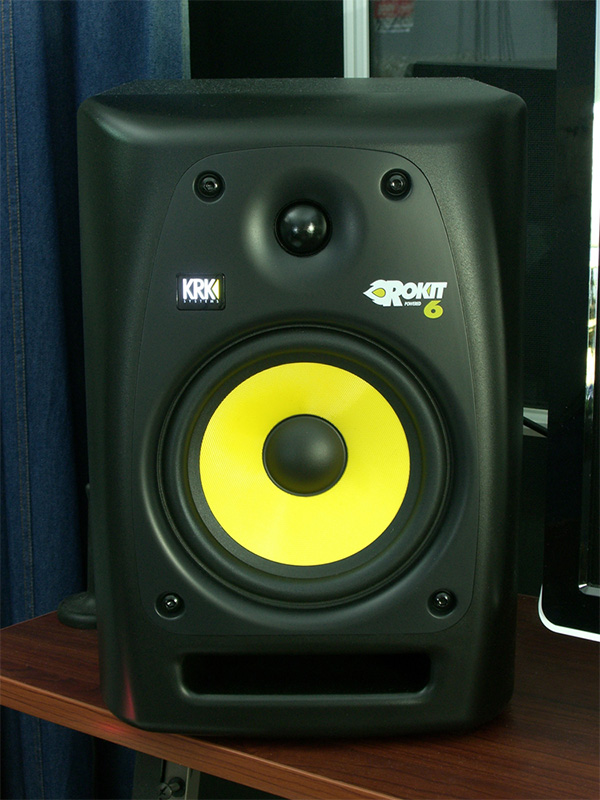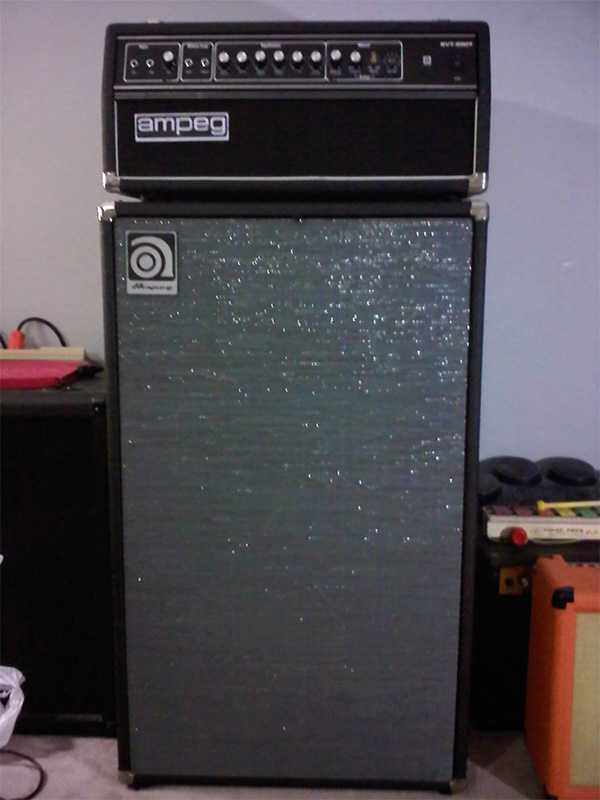 Computing
Music
My new computer has been built and up and running for about 2 and half months now. I've overclocked it to 3.3GHz and it's been running great, and is quite the improvement over my previous laptop. Also, after being backordered for about a month, my new desk finally arrived last friday and I put it together. It has 8 rack spaces built into it for various musical equipment. My previous desk, made out of 2 old speakers and shelves, wasn't exactly "stable," and it's nice to have something I can rest my wrists on without it leaning forward. The new desk also looks a lot better and has a lot more work space. My new audio interface, the Echo Audiofire Pre8, just arrived today and I installed it in one of the rack spaces on my new desk. It sounds great, and even with a cheap condenser mic there's a night-and-day difference compared to my Blue Snowball. It has 8 preamps, 16 ins and outs, and 2 inputs with mic phase, impedance, pad, hi-pass, and DI switches. Guitars and basses sound great even with a direct in with the DI switch enabled running through an amp modeler like Guitar Rig 4. You'll get to hear some of my new work through the new interface soon. Below are some pictures of my new set up: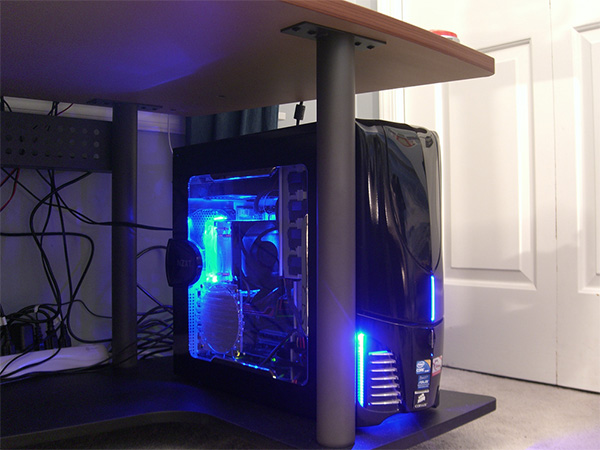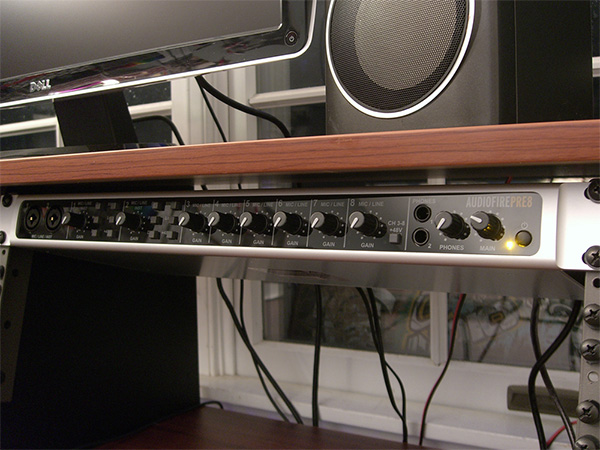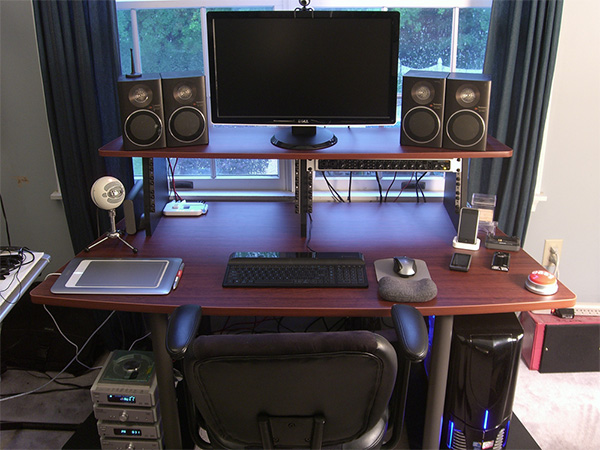 Music
Here are 13 noteworthy albums of the year 2009 that you should check out if you have not already done so. All of the album artworks link to Spotify where you can stream the whole album. Listing them from best to not best would be far too difficult so they are just listed alphabetically.