Apps
Clocks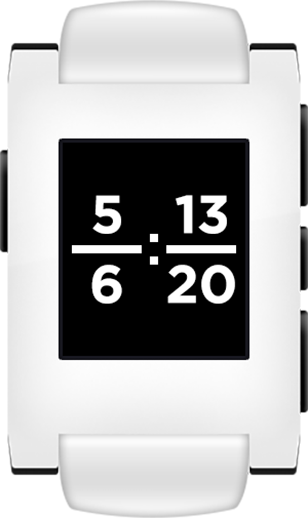 Fraction Clock is now available for Pebble!
Tell time in reduced fractions.
We hear it all the time:
"What time is it?"
"It's a quarter 'til three."
But what if you took that to the next level?
"What time is it?", they ask?
"It's thirteen twentieths past eight."
Fraction clock takes the current number of hours and minutes over the total number of hours and minutes and reduces them to their lowest form. It provides an interesting new way to tell time, allowing you to easily see what fraction of the hour or day has gone by.
Features:
Switch between vertical and horizontal orientation of fractions
Both black and white backgrounds
Use 24 or 12 as your hour divisor. Using 24 tells you how far you are past midnight. Using 12 tells you how far you are past midnight in the AM and how far you are past noon in the PM.
Optionally pad the numbers with zeros
Optionally display seconds

Apps
Clocks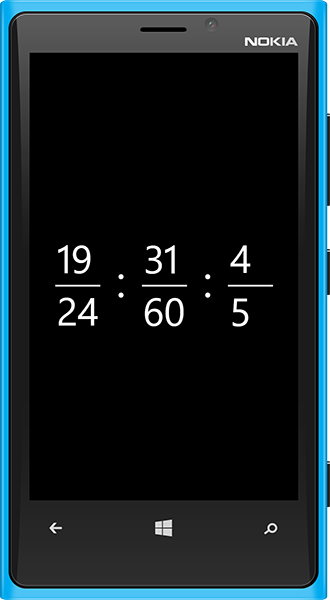 An app for my fraction clock is now available on the Windows Phone Marketplace! If you have a Windows Phone, go download it for free!
Apps
Clocks
Collections
...but the party don't stop, no.
I have an interest in interesting clocks, so I thought I'd share some of the ones I have in my small collection.
Clocks from left to right:
Anelace Powers of Two BCD Clock - A clock that tells time in binary!
Sony ICF-C318 Clock Radio with Dual Alarm - A good old-fashioned digital clock. I bought this as an alarm clock after my phone alarm decided to not work one morning, so I knew it could no longer be trusted. The dual alarms definitely come in handy.
Lexon Around Clock - While the red marker stays still, the body rotates around.
Newgate Small Covent Garden Alarm Clock - A retro-looking old-fashioned alarm clock, but with fake bells and a digital alarm beep.
Brookstone Jimi Rocker Clock - A clock with an interesting see-through display that lights up when you rock with it (and when you lean with it, too).
Backwards Clock (in the back) - Most everything in the universe (planets [most of them, anyways], moons, stars, galaxies, etc.) rotate counterclockwise, so why shouldn't clocks?
Watches from left to right:
Pebble Smartwatch - I love this thing and it's what you'll find on my wrist the majority of the time. Having text messages sent to my wrist is an awesome feature, and definitely something I miss the very few times I haven't worn it. There are also tons of different watchfaces to choose from, including ones that will give you up-to-date weather reports. The only gripe I have with it is the watch pins tend to pop out if you ever get your watch hung on something, e.g. a backpack strap or coat sleeve, causing the strap to come off. I've replaced them with some heavier duty ones that seem to hold much better.
Casio CA53W Databank Calculator Watch - My beloved calculator watch. You never know how handy having an easily accessible calculator is until you have one strapped to your wrist. Also quite the fashion statement.
Casio A158W-1 Classic Digital Stainless Steel Bracelet Watch - A great watch for such a low price.
Ni'love Calculator Watch - Unfortunately I would not recommend this one; it's confusing to operate and doesn't keep time very well.
I also have the QlockTwo app. I would love to have one of the real ones, but with a $1,100 price tag, I just don't see it happening. They sure are pretty though!
and of course let's not forget my very own fraction clock! For when telling time is just too easy.
Apps
Clocks
Computing

I've had this idea for a while now so I finally decided to try and throw it together. The idea is this: a clock that tells time in reduced fractions. For example, think of the time 8:18pm as the fractions 20/24 : 18/60. So we're on the 20th hour out of 24 hours total, and the 18th minute out of 60 minutes total. Now reduce both of those fractions to their simplest form and you get 5/6 : 3/10. It might seem nearly impossible to read and pretty impractical, but it does give an interesting new perspective on time (e.g. "3/10ths of the hour have just gone by"). Anyways, I coded up a little java applet that does exactly this, which you can check out here (you'll have to click "run" and it might take a second to load). Go take a look!