Collections
Music
Guitar Gear October 16, 2014 - 1:35 pm
Here are a few pictures and a listing of my current guitar rig:
Guitar
Fender American Deluxe Telecaster Thinline
Amp
Vox Custom AC15 Creamback
Pedalboard
Pedaltrain PT-2 Pedalboard
Voodoo Lab Pedal Power Mondo Power Supply
Strymon TimeLine Delay
Strymon BigSky Reverberator
Boss RV-5 Digital Reverb
Boss DD-7 Digital Delay
Electro-Harmonix POG2 Polyphonic Octave Generator
Electro-Harmonix Nano Big Muff
Paul Cochrane Timmy Overdrive
Walrus Audio Deep Six Compressor
Sonic Research Turbo Tuner ST-200
Ernie Ball MVP Volume Pedal
Slide
Original Polished Brass Rock Slide
Collections
Pen and Paper
Part 3 of the pens, pencils, and notebooks collection.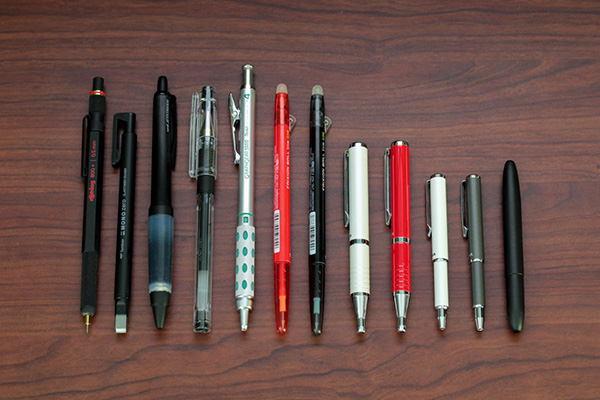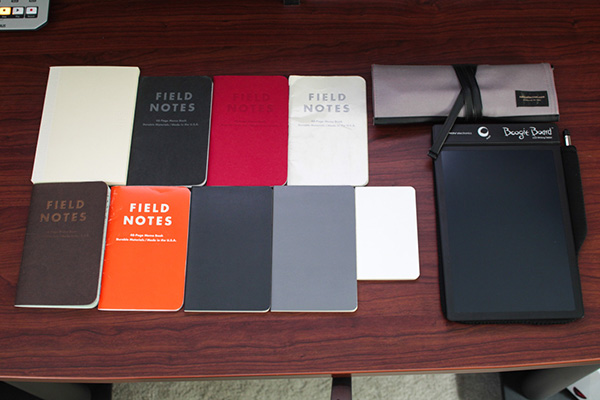 Pens and pencils, from left to right:
Rotring 800+ Mechanical Pencil + Stylus Hybrid 0.5mm - Like the 600, but with a tip that doubles as a tablet stylus.
Tombow Mono Zero Eraser 2.5mm x 5mm - Skinny when it needs to be, but can cover more area with the wider side.
Uni Jetstream Alpha Gel Ballpoint Pen 0.7mm - The best ballpoint with an alpha gel grip, what more could you ask for?
Pilot Hi-Tec-C Gel Ink Pen 0.4mm - Great writing gel pen!
Pentel Graph Gear 1000 Drafting Pencil 0.4mm - Love the 0.4mm lead option, and the retractable tip is great.
Pilot FriXion Ball Slim Gel Ink Pen 0.38mm (Red) - Beth brought these back from Japan during her semester at sea trip. It's a pen that you can erase!
Pilot FriXion Ball Slim Gel Ink Pen 0.38mm (Black)
Zebra Expandz Ballpoint Pen 0.7mm (White) - Love this guy, usually what I carry on me; nice and compact.
Zebra Expandz Ballpoint Pen 0.7mm (Red)
Zebra SL-F1 Mini Ballpoint Pen 0.7mm (Gray) - A little smaller than the Expandz, can take a Fisher universal refill.
Fisher Space Pen Bullet Ballpoint Pen - A classic.
Notebooks, from top to bottom, left to right:
Midori MD Notebook - A very nice notebook, another thing Beth brought back from Japan.
Field Notes (Night Sky Edition)
Field Notes (Red Blooded Edition)
Field Notes (Northerly Edition)
Field Notes (The Traveling Salesman Edition)
Field Notes (Expedition Edition)
Moleskine Volant Pocket Ruled (Payne's Gray)
Moleskine Volant Pocket Ruled (Slate Gray)
Moleskine Volant Extra Small Ruled (White)
On the top right is a Saki P-666 pen roll
and on the bottom right is a Boogie Board - a cool digital tablet that you can use a stylus to write on and push a button to erase.
All of the Field Notes varieties: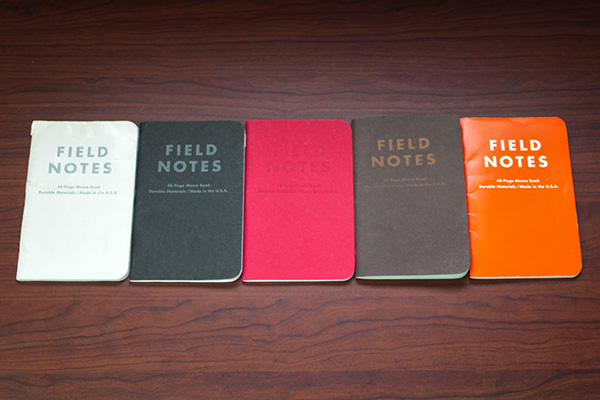 Some notebook/pen combinations: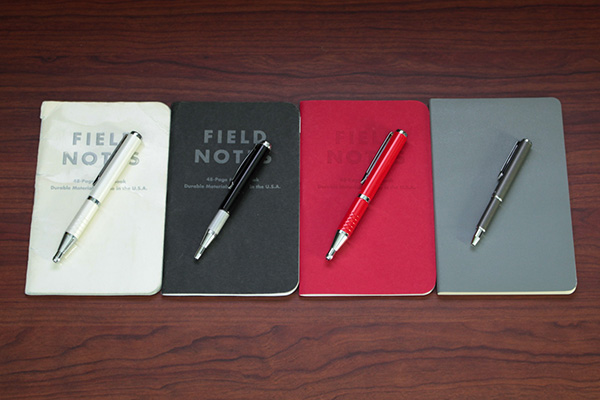 Collections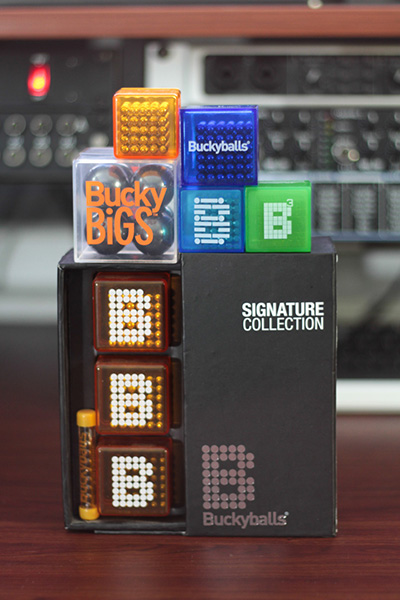 Here are a couple of pictures of my Buckyballs collection. It's old news by now, but it's a shame they got discontinued. There is a recall issued for them, but I have no intentions of returning them; I'll do what I can to resist the urge to swallow them. There's an interesting article on the rise and fall of Buckyballs here. If you'd like, you can still buy Bucky Bigs and Buckyballs encased in lucite here.