Apps
Clocks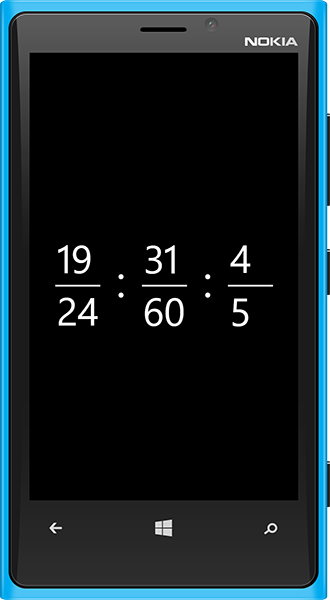 An app for my fraction clock is now available on the Windows Phone Marketplace! If you have a Windows Phone, go download it for free!
Computing
MacBook Air July 6, 2012 - 10:23 am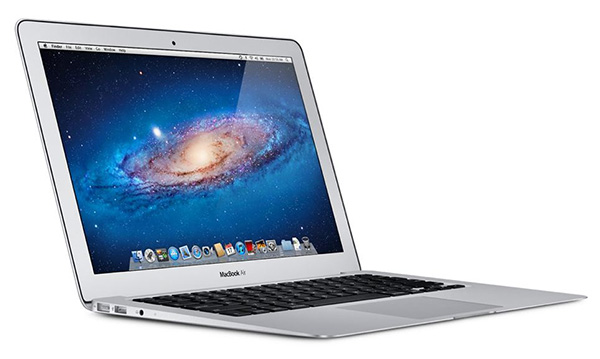 My laptop has finally received a long-overdue upgrade. After going through my second power cord, the cord on my old 15" Dell is hanging on by a couple of alligator clips. I just received my new MacBook Air last Monday, and it is wonderful. It really is amazing how light and thin it is; two aspects which weren't even really my main motive for choosing the Air over the Pro (more-so the SSD and higher resolution screen; sure you can configure a Pro with an SSD, but that adds yet another $200 to the already high price). The new retina MacBook Pro looks amazing, but they're just too expensive, and definitely overkill. Having my desktop, the MacBook Air provides all that I need on the mobile end of things. The hard drive is only 128GB, which sounds tiny, but I hardly need more than that. With Spotify and iTunes Match, I no longer need all 56GB of music in my iTunes library, and all other documents I may need can be kept on an external drive. With the SSD everything is ridiculously fast, from rebooting, to launching apps, to copying files. It's incredible. The battery life has also been extremely good. The trackpad, with it's multi-touch gestures, and the keyboard, which I am typing on now, are both great as well. I can't remember the last time I've used a CD drive, so that's certainly something I don't miss; and as far as the lack of ports goes, with the occasional need for a USB hub, there's really no others I need. For classes where I need to bring my laptop with me, it's going to be a lot nicer carrying this in my backpack than my late 6+ pound laptop; the Air being less than half that. Being on such a big campus means lots of walking. I like the 13" form factor much better for a laptop. 15" just seems too big, and 17" is just preposterous (no offense to those getting their mobile desktop on). This is my first Mac, and while I do like OSX, I'm still a fan of Windows. Anyways, I couldn't be happier, and I'd definitely recommend the Air to anyone looking for a ultraportable laptop!
Apps
Clocks
Collections
...but the party don't stop, no.
I have an interest in interesting clocks, so I thought I'd share some of the ones I have in my small collection.
Clocks from left to right:
Anelace Powers of Two BCD Clock - A clock that tells time in binary!
Sony ICF-C318 Clock Radio with Dual Alarm - A good old-fashioned digital clock. I bought this as an alarm clock after my phone alarm decided to not work one morning, so I knew it could no longer be trusted. The dual alarms definitely come in handy.
Lexon Around Clock - While the red marker stays still, the body rotates around.
Newgate Small Covent Garden Alarm Clock - A retro-looking old-fashioned alarm clock, but with fake bells and a digital alarm beep.
Brookstone Jimi Rocker Clock - A clock with an interesting see-through display that lights up when you rock with it (and when you lean with it, too).
Backwards Clock (in the back) - Most everything in the universe (planets [most of them, anyways], moons, stars, galaxies, etc.) rotate counterclockwise, so why shouldn't clocks?
Watches from left to right:
Pebble Smartwatch - I love this thing and it's what you'll find on my wrist the majority of the time. Having text messages sent to my wrist is an awesome feature, and definitely something I miss the very few times I haven't worn it. There are also tons of different watchfaces to choose from, including ones that will give you up-to-date weather reports. The only gripe I have with it is the watch pins tend to pop out if you ever get your watch hung on something, e.g. a backpack strap or coat sleeve, causing the strap to come off. I've replaced them with some heavier duty ones that seem to hold much better.
Casio CA53W Databank Calculator Watch - My beloved calculator watch. You never know how handy having an easily accessible calculator is until you have one strapped to your wrist. Also quite the fashion statement.
Casio A158W-1 Classic Digital Stainless Steel Bracelet Watch - A great watch for such a low price.
Ni'love Calculator Watch - Unfortunately I would not recommend this one; it's confusing to operate and doesn't keep time very well.
I also have the QlockTwo app. I would love to have one of the real ones, but with a $1,100 price tag, I just don't see it happening. They sure are pretty though!
and of course let's not forget my very own fraction clock! For when telling time is just too easy.
Collections
Pen and Paper
Penterest July 1, 2012 - 7:10 pm
Yes, that's right, another pen blog post. I may have a problem. Anyways, I have some new additions to the family and I didn't want them to feel left out, so here they are!


Pens and pencils from left to right:
Pilot G2 Limited w/ Mont Blanc Refill - Probably my favorite pen at the moment. The metal body with the rubber grip is nice, and the Mont Blanc refill is as good as it gets.
Retro 51 Tornado - Another one given to me by my Uncle Paul, this is a great pen.
Pilot Multiball - A great-writing pen. It claims to write on any surface as well, including things like glass. But will it write on those glossy, ink-smearing, christmas gift tags? Time will tell.
Stabilo Bionic Worker - Cool-looking pen, and the all-rubberized body is nice, but the tip is way thick for a 0.5mm and the ink is very prone to smearing.
Zebra Regal NR5 - Very similar to the Pilot Precise V5.
Rotring Tikky Rollerpoint - Had high hopes for this one, but like the Stabilo, the tip is very thick for an "extra fine."
Morning Glory Mach II - Yet another one very similar to the V5.
Uni Mitsubishi Pin - Love this one. It is a felt tip like the Microns and Sharpie pens, and the 0.1mm tip is super fine.
PU Rollerball - Don't know a whole lot about this one, another given to me by my Uncle. Solid rollerball.
Uni-ball Power Tank - An air-pressurized ball point similar to the Fisher space pens. Writes upside down, which comes in handy whenever I'm hanging upside down.
Zebra Surari - A pretty good ballpoint which could maybe even rival the Jetstream.
Quasar Pen - This one, which I just rediscovered recently, was given to me by my grandma when I was a kid. Click the top and you're treated to a light show of a rainbow of pulsing colors!
Laser Pointer Pen - Another one from Uncle Paul. It has a laser on one end and the other end can be pulled out into an antenna-style pointer, perfect for those impromptu orchestra conducting sessions.
Zebra F-701 w/ Fisher Refill - Solid all aluminum ballpoint, and the Fisher refill makes it even better.
Boardwalk Pen - My dad bought this at the Ward World Championship Wildfowl Carving Competition (that's a mouthful), which he annually competes in. A guy made this out of the scrap wood from the boardwalk in Ocean City, Maryland.
Zebra Tect 2Way Drafting Pencil - A shaker pencil and a clicker pencil all in one!
Skilcraft Drafting Pencil - Another old rediscovered item.
Rotring 600 Drafting Pencil - One of the best there is. By far, my favorite pencil.
2 Uni-Ball E-Knock Erasers - Use these all the time in school, these are the best. I prefer them over the Staedtler Mars Plastic sticks, as they are a little softer and much easier to deploy.
and last but not least and not pictured, is the Zebra Expandz Ballpoint Pen. This is the one that I carry around on me every day. I love this little guy.
Notebooks from left to right:
Moleskine Passions Music Journal - This isn't as good as I'd hoped it'd be, but it's still pretty cool. Has all different sections for the musical adventures in your life.
Behance Dot Grid Journal - I've mentioned this one here.
Moleskine Lego Limited Edition Notebook - So awesome.
Rhodia Stable Bound Classic Notebook - A lot like field notes but just a little smaller and lot oranger.
Rhodia Reinforced Stable Bound Notepad - Nice little notepad.
Check out the rest of the collection.