Collections
Pen and Paper
I have always taken a liking towards pens and pencils. Lately I have accumulated somewhat of a collection and thought I'd share, along with some of my thoughts on a few of them. These aren't in depth reviews, but you can find plenty of good ones online; check out officesupplygeek.com, penaddict.com, or davesmechanicalpencils.blogspot.com. If you fancy a good writing utensil, you should also check out jetpens.com. They have all sorts of great pens and pencils, lots of which are imported from Japan (where the good stuff is). All of these pens and pencils you should be able to find on either jetpens.com, amazon, walmart, or your local office supply store. Enjoy!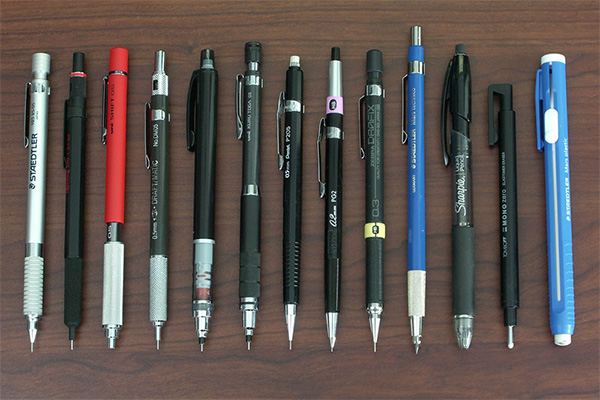 Pencils from left to right:
Staedtler 925-25 0.5mm - All aluminum body, feels great, writes super smooth.
Rotring 500 0.5mm
Uni Shift 0.5mm - Has a guide pipe that retracts into itself so it and the lead won't get damaged during transportation or if dropped. Super cool.
Alivin Draft/Matic 0.5mm
Uni Kuru Toga 0.5mm - Features a unique auto-lead-rotating mechanism that keeps the lead constantly sharp, and it works great.
Uni Kuru Toga High Roulette 0.5mm - Same as above, but has an aluminum lower body and knurled grip. Feels a lot more solid and the grip is nice.
Pentel P205 0.5mm
Pentel PG2-AD 0.2mm - Features the thinnest pencil lead made, only slightly thicker than human hair.
Zebra Drafix 0.3mm
Staedtler Mars Technico 780 C Lead Holder 2.0mm - Has a lead sharpener built into the cap, which is awesome.
Sharpie Liquid Pencil - As much as I love sharpie products, this is absolutely dreadful and should be avoided at all costs.
Tombow Mono Zero Eraser 2.3mm - The world's thinnest eraser. Have you ever tried to erase something and accidentally erased more than you intended to, making you re-write/draw certain lines? This eraser will let you get into even the tinniest of spaces.
Staedtler Mars Plastic Stick Eraser - Great eraser, super handy, I use it all the time.
Pens from left to right:
Uni-ball Signo Premier 207 Retractable Gel Ink Pen 0.7mm - Has a metal body and a super comfortable squishy "Alpha Gel" grip. Apparently it's so soft that it can keep an egg from breaking when dropped from 5 feet.
Pentel EngerGel Alloy Retractable Gel Ink Pen 0.7mm - This pen has an all metal body and super black ink, the blackest of all the pens I own, which looks really nice.
Uni-ball Signo Micro 207 Needle-Point Retractable Gel Ink Pen 0.5mm - Probably my favorite gel ink pen.
Pilot G-2 Gel Ink Pen 0.5mm
Zebra Sarasa Gel Ink Pen 0.3mm - Writes super thin, seems thinner than most 0.3mm.
Pentel EnerGel Gel Ink Pen 0.35mm - Just like the one above but in a super thin tip. Same super black ink.
Pilot Envelope Address Writing Gel Ink Pen Extra Fine - A cool pen from Japan that was designed for addressing envelopes. Oil based ink so it dries fast and won't smear. Ink is very black and shiny.
Uni-ball Vision Elite Liquid Ink Pen 0.5mm
Pilot Precise V5 Liquid Ink Pen 0.5mm
Pilot Precise Grip Liquid Ink Pen 0.5mm - Probably my favorite liquid ink pen. Just like the V5 but with a comfortable rubber grip.
Zebra Zeb-Roller 2000 Liquid Ink Pen 0.5mm
Sharpie Pen Grip - Possibly still my favorite of them all. I have fallen in love with it ever since it came out. Writes more like a thin marker than a pen, but won't bleed through paper.
Sharpie Pen Retractable - I have found that the tips on the retractable versions of the Sharpie Pen don't last as long. The grip is also too thick and bulky.
Sharpie Pen - Just like the beloved grip version, minus the grip. The regular version has a sharp edge near where it's held, which can be uncomfortable at times.
Zebra Brush Pen Fine
Sakura Pigma Micron 03 0.35mm - Writes a lot like the sharpie pen, and all sorts of widths are available, but the skinny barrel and lack of a grip makes it less comfortable to write with.
Pilot Penmanship Fountain Pen Extra Fine
Uni-Ball Jetstream Retractable Ballpoint Pen 0.7mm - Best writing ball point pen period. Doesn't even feel like a ballpoint pen. Smoother than a Barry White serenade.
Pilot Acroball Retractable Ballpoint Pen 0.7mm - Similar to the Jetstream, but just not up to par.
Pilot Dr. Grip Retractable Ballpoint Pen 1.0mm
Pilot Better Retractable Ballpoint Pen 0.5mm - My dad used these all the time when I was a little kid and they still look the exact same to this day.
Pentel R.S.V.P. Ballpoint Pen 0.7mm
Foray Tungsten Carbide Retractable Ballpoint Pen 0.7mm - Given to me by a fellow pen addict, my uncle.
Zebra F-301 Retractable Ballpoint Pen 0.7mm
Zebra F-301 Compact Ballpoint Pen 0.7mm
Zebra Telescopic Ballpoint Pen 1.0mm